Pushing franchise expansion with what executives say are the most "sexy" and profitable car washes in the world, Tommy's Express takes the No. 1 spot after debuting at No. 2 on this ranking last year. System sales grew an incredible 881 percent from 2019 through 2021, and Tommy's has its "foot on the gas," says CEO Alex Lemmen, with a mature infrastructure ready to open 60 to 120 car washes a year. Read more from Lemmen and President Ryan Essenburg, and check out strategies from all 40 franchises in this exclusive research project that identifies sustainably growing brands.
Articles by Beth Ewen, Matthew Liedke, Laura Michaels and Emilee Wentland; Research by Matt Haskin and Kate Kapsner
---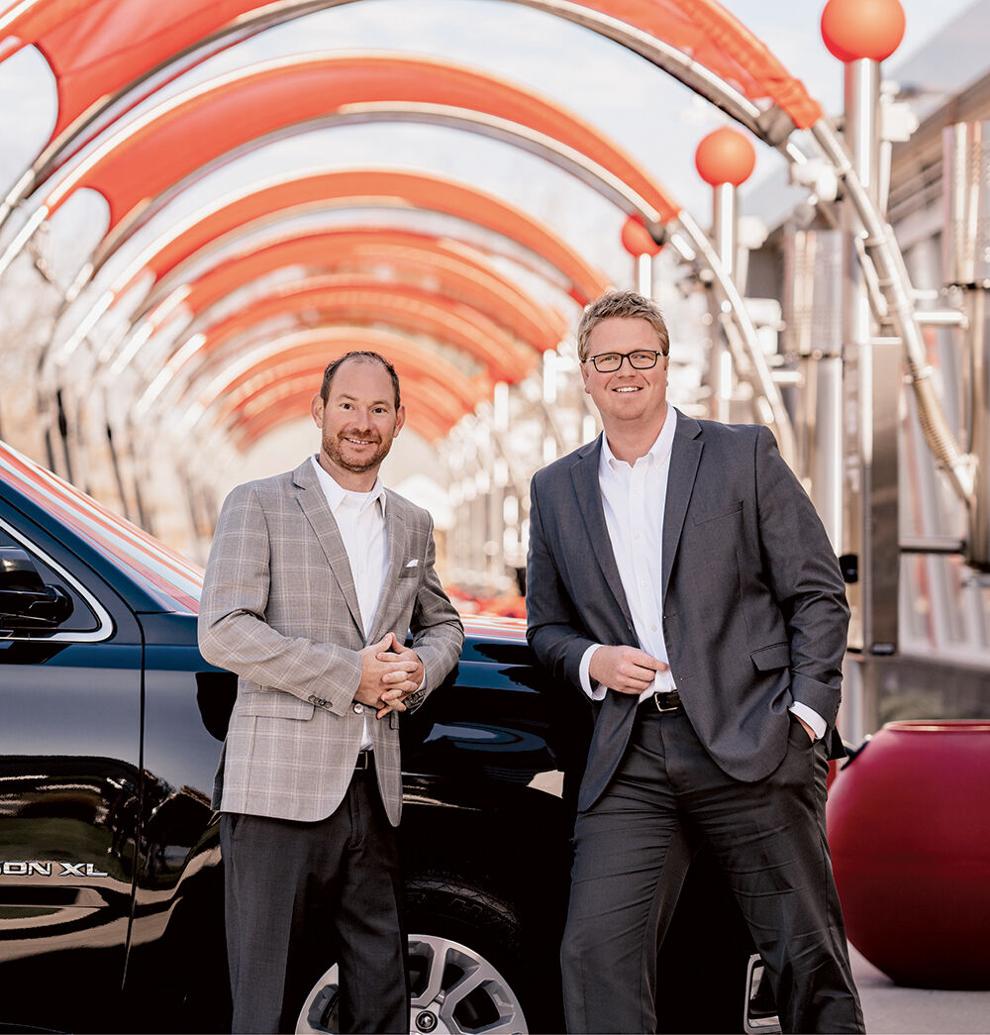 #1 Tommy's Express
Car wash chain
Alex Lemmen, CEO of Tommy's Express, holds up a grainy photo to prove he started early in the business founded by the Essenburg family of Holland, Michigan. "IT'S A BOY" says the sign outside the Quality Car Wash managed by his father in 1990, when gas was $1.31 a gallon. "That's me!" Lemmen said.
But Tommy's goes back much further, to 1969, when brothers Jun and Sonny Essenburg opened their first Quality Car Wash. "They were partners in life, did everything together," says Ryan Essenburg, Jun's grandson, president of Tommy's Express and the person who pushed hardest to franchise, starting in 2016. "They always told stories of the Great Depression. It really helped sculpt today. He taught us to be conservative, be careful and be cautious."
Tom Essenburg, Ryan's father, began tinkering with the mountain of mechanical parts required to keep a car wash running, working overnight with his father and uncle after the store closed. At one point their equipment manufacturer went out of business. "It was taking matters into their own hands. If it meant making a part," they would do so themselves, Ryan said.
That led to an eventual thriving business making car wash equipment and technology systems to sell to others, then to a construction arm to build what the Essenburgs believe are the most "sexy" and profitable car washes on the planet. After nearly 12 years of debate between Tom and Ryan, Tommy's Express franchise system was born.
"He's actually more of an artist. He understands the science of consumer desires," Ryan says about Tom's innovations. "It's seconds and fractions of seconds that matter. We do everything we can to increase cars per hour."
The Tommy's Express record is 220 cars per hour, far more than others, Lemmen said, adding Ryan is also obsessed. "When we travel around the country, you have to drag Ryan out by the ankles. He's tweaking a nozzle" or otherwise trying to "leave it more profitable than you found it."
Lemmen went to the University of Michigan in Ann Arbor, then worked for Boston Consulting Group on assignments around the world before Ryan Essenburg lured him back to helm their new franchise operation. "Oh my word. I think the Chick-fil-A of car washes is being born in my hometown," Lemmen recalled thinking.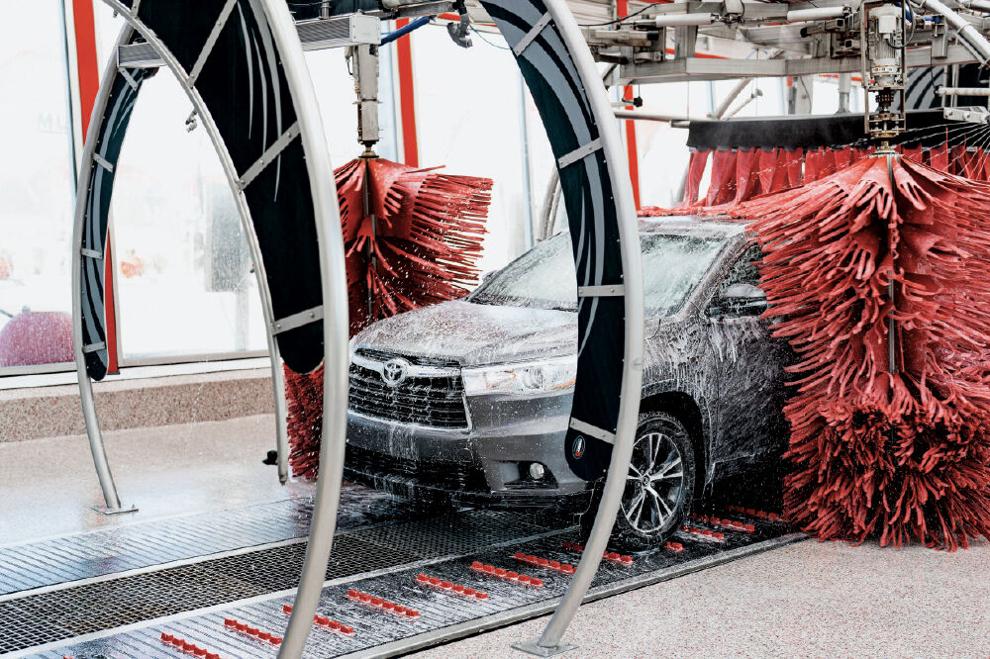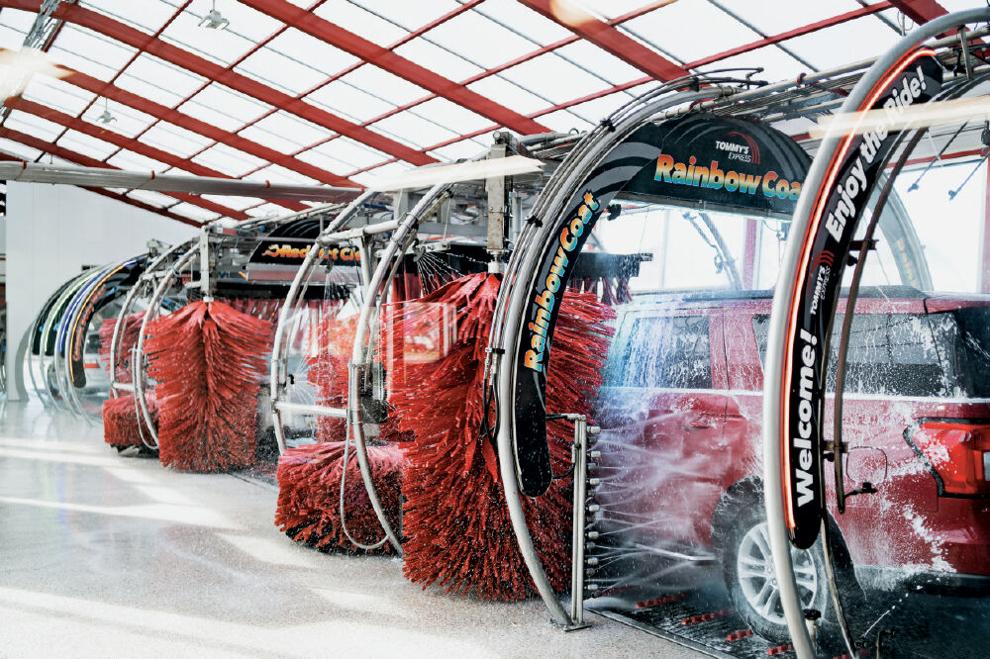 In 2018, six Tommy's Express stores were open, with about seven people on the franchise team and 50 total employees. Today they have 450 people, 100 of them on the franchise team, and are building a 250,000-square-foot new headquarters, 200,000 of that a warehouse where employees assemble equipment, mix detergent and the like.
On a visit in early November, they had just opened store 132, 50 of those in 2022. Next year they'll open between 60 and 80, Lemmen said, and more than 600 are in development. System sales grew 881.5 percent from 2019 through 2021, to $250 million. Units grew 280 percent, to 114. Average unit volumes are $3.1 million; the cost to build a Tommy's Express is $6- to $8 million.
"We foresee many years of 60 to 120 car washes a year," Lemmen said, in reference to openings, "but with mature support for our franchise partners and a mature infrastructure. Foot on the gas."
Bankers call him every week, asking to invest or promoting a public offering, in an industry rapidly consolidating. One private equity-backed brand that went public last year, Mister Car Wash, for example, has more than 400 stores and is looking to buy up others.
But the Essenburgs just say no. "It's not a get-rich-quick scheme. It's not a financial engineering scheme. My Dad said, build a good business, and that's what we're doing," Ryan said. "A multi-generational legacy is what we're trying to create," for franchise partners, employees and the community.
Tom Essenburg said his motivation is "always trying to find a better way of doing things, and improve things and simplify. And getting people to get riled up and let's go ahead and make a better mousetrap."
He had just returned from "a total carwash trip," visiting 13 or 14 countries in two weeks. "It makes you think bigger and dream bigger," he said. "We do see a lot of copiers; I'm not offended by that. It makes me feel confident and we're on the right track."
As for Mister Car Wash, which will become the first brand outside of the Essenburg family to build a car wash in Holland—bring it on. "They're going to grow it, and yes, part of it is retaliation. We've gone up against them in 10 different cities, where we've built franchisee stores 10 miles away. We're like OK, I guess we deserve it," Tom says.
"There's a big world out there, and it's a big country, and there's a lot of other countries. There's an opportunity for everyone."
---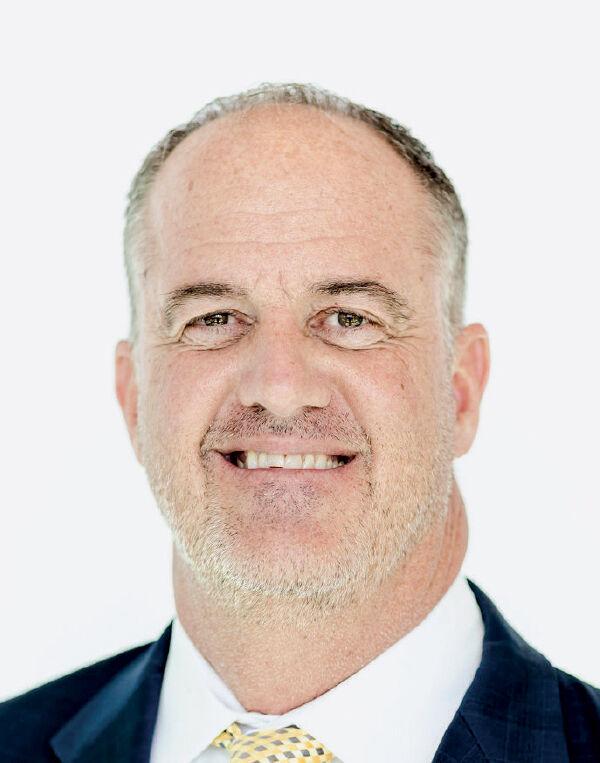 #2 United Real Estate
Residential real estate brokers
Zooming to No. 2 on the Fast & Serious list from No. 49 the year before, CEO Dan Duffy marveled at the past three years. "2021, and really the latter half of 2020, and the first half of 2022, were literally the best real estate markets ever, in the history of the United States. The population is larger, life happens and people were on the move. They could work where they wanted to live," he said. "All of those factors influenced people accelerating decisions about retirement, moving to where they wanted to live and maintaining their jobs. Sixty-eight percent of all job posts on Indeed offered some degree of flexible work. And prior to the pandemic, it was less than 6 percent. So that's a massive societal shift that happened." United Real Estate was perfectly placed. "We built a business model which is aligned with where the industry is going," he said. "Brokerages were becoming more efficient, agents were becoming more efficient and wanted to keep more of what they earned. It's more lucrative for an agent, and ergo why our brokerage is growing and some others aren't." Another factor is "interlopers" into the space, "they refer to themselves as disrupters, they have come and gone. iBuying is a perfect example," in which Zillow, Redfin and Opendoor among others buy houses with cash using an algorithm and then flip them as fast as possible. "A lot of those interlopers and quote-unquote disruptive technology-forward companies, those business models were too much, too far, too fast." While some of their theses were correct, "they didn't execute properly." His motto for growth? "Our business is almost five times the size that it was five years ago," he said. "We got to the dance by being nimble and being curious, and making informed, fast decisions, and tacking. You can't be fixed in your thinking."
---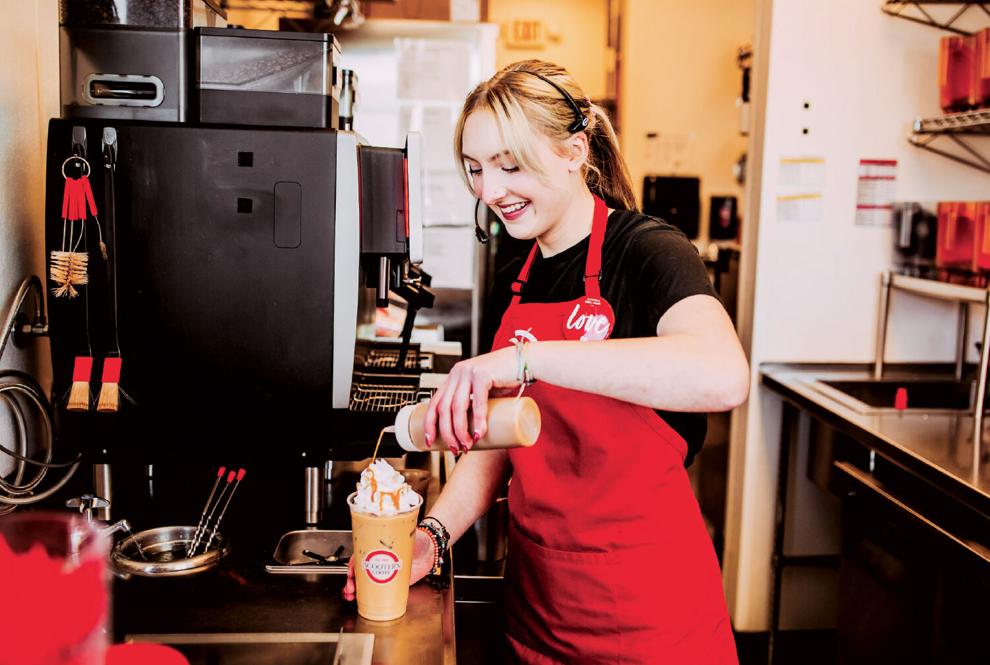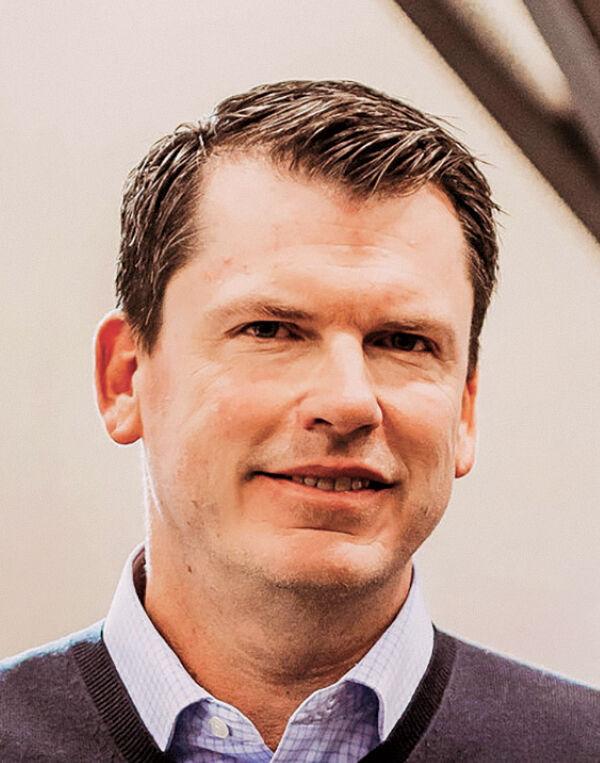 #3 Scooter's Coffee
Drive-thru coffeeshops
Keeping it simple is the mantra for Todd Graeve, CEO of Scooter's Coffee, but that turns out to be a complex challenge for any company, including the Omaha-based chain of drive-thru coffeeshops that turns 25 in March. "Companies never drift to simplicity. You're always sort of fighting the headwinds of becoming unnecessarily complex," he said. "It doesn't mean you can't innovate, but we have to have certain fences around who we want to be." For example, if the menu board becomes overly complex and starts to slow the drive-thru lane, that will jeopardize the customers' all-important need for speed. "Or, you can create too many layers of a strategy to add units around the country, instead of focus on the two best ideas," he added for another example. "I think in many ways it's not changing, honestly, a lot. It's staying committed to staying really disciplined to who we are, and an acute focus on unit level economics." Harvest Roasting, the company-owned entity that purchases all supplies (except dairy products) for franchisees, has been a savior through pandemic-era supply chain disruptions and now inflation. Harvest Roasting "puts us in a really unique position to compete, and to hold the line on unit-level economics," he said. Same-store sales grew 55 to 60 percent from 2019 to 2021 and he knows operators are noticing. "Our franchisees and other prospective franchisees can pretty quickly put two and two together," that once units are past break-even, those additional sales flow to the bottom line. Scooter's expected to have 600 stores by the end of 2022, and will be north of 1,000 in 2024, "so we need to scale," he added. The addition of Joe Thornton as president this year, with his background at Starbucks, Jamba, Blockbuster and HMSHost, will help the effort and leads to another catch phrase for Graeve. "So, Joe and I talk every day, alignment, alignment, alignment. We're going to do a sort of alignment tour with all our employees through the end of the year" to set them up for "huge" growth year in 2023. "To do what? Align, align, align. What is our model…how do we not stray to complexity" will be the not-so-simple mission.
---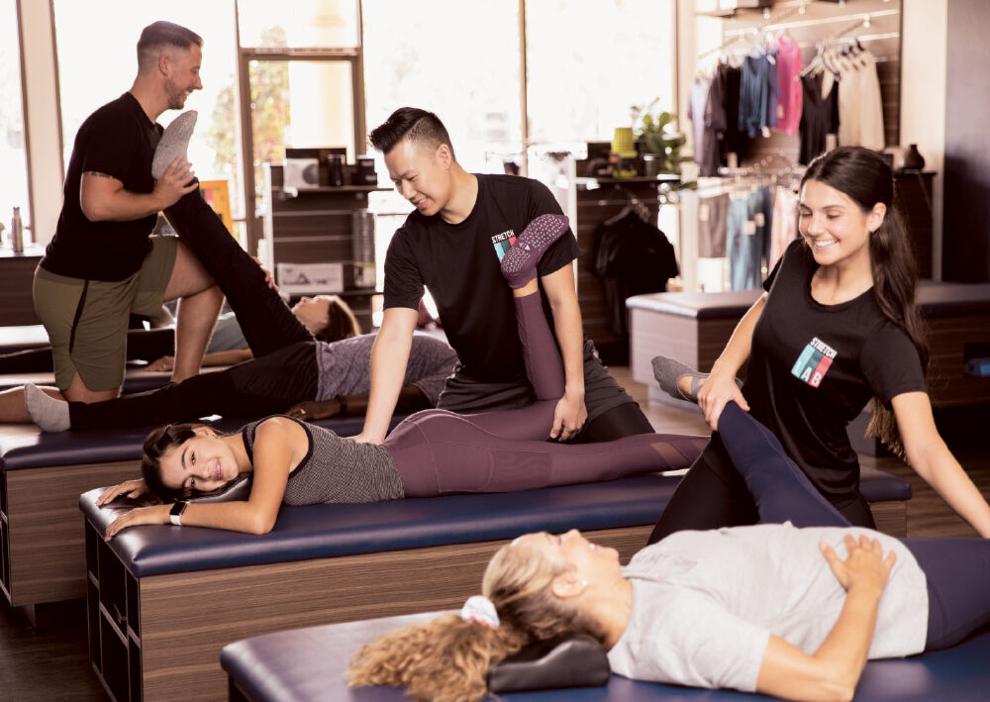 #4 StretchLab
Assisted stretching studios
Founded in 2015 and purchased by boutique fitness franchisor Xponential Fitness two years later, StretchLab debuts at No. 4 on the Fast & Serious ranking. System sales grew 210 percent from 2019 through 2021, to $50 million, and units increased 135.9 percent to 151. Lou DeFrancisco was president of the brand through March 2022 when he became president of Body Fit Training, an Australian fitness franchise purchased by Xponential for $44 million in October 2021 and becoming its tenth brand. Verdine Baker is StretchLab's new president. Xponential did not respond to requests for comment. StretchLab serves customers in a popular niche in fitness, competing in particular against Stretch Zone. Founded by Jorden Gold, who holds patents on stretching equipment used at the studios, Stretch Zone counts retired NFL superstar Drew Brees as a client and now franchisee.
---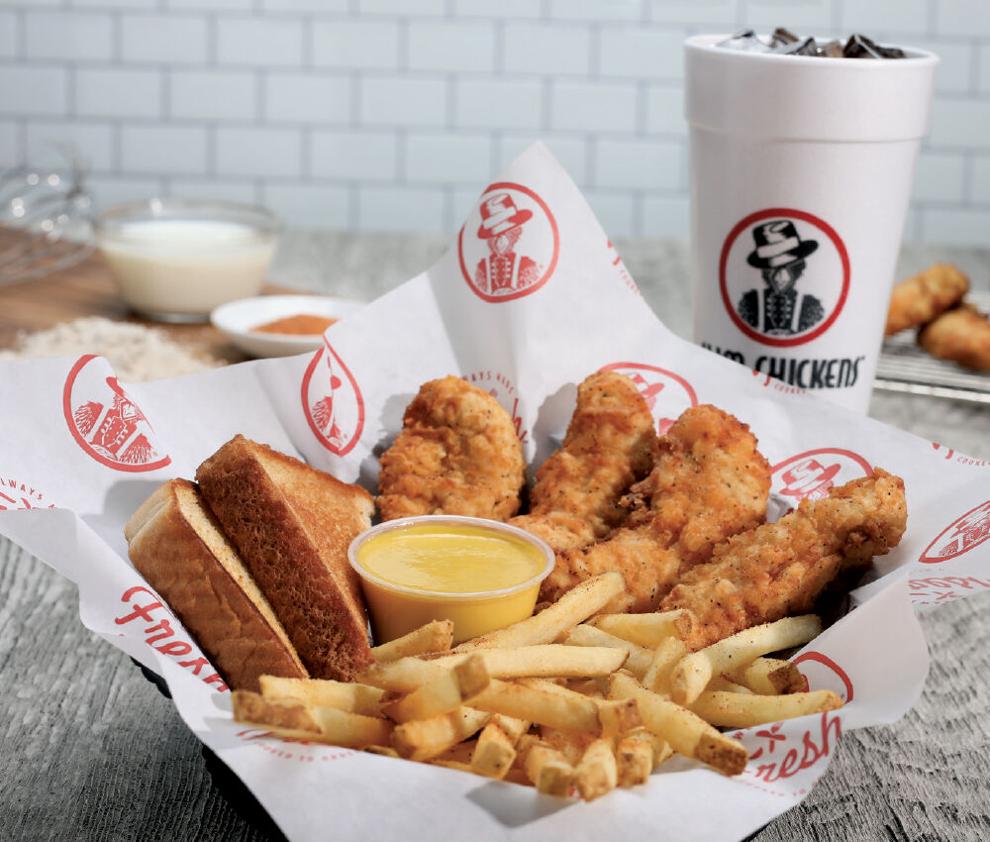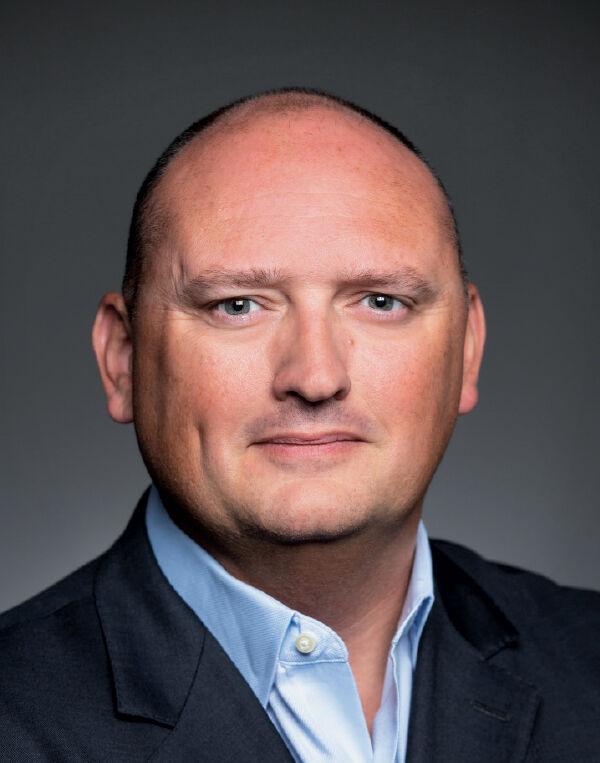 #5 Slim Chickens
Fast-casual chicken restaurants
A lot has changed since Tom Gordon and Greg Smart co-founded their chicken chain in Fayetteville, Arkansas, in 2003, and then began franchising in 2013. System sales grew 118.7 percent from 2019 through 2021, to $265 million, and units grew 46.7 percent, to 132. But "there are a lot of things that are the same. I still feel so responsible for all 8,000 people that work for the brand," said Gordon, CEO. "It's nice to be in a position of financial strength versus scrambling for the first decade. That's allowed us to do a lot of great things for our company, our franchisees." Asked about his philosophy toward driving sustainable growth, he said, "It's a big question. It's hard to put that into a short motto. I'll tell you a couple things I talk about all the time, with my team. Because we're not as big as some of our competitors we have to go fast. We have to go as fast as we possibly can without taking big risks. And how do you balance speed and giant risk? It's with using data, utilizing franchisee intel, utilizing local professionals" to put "great restaurants in great places as fast as we possibly can, and get market share." A mobile loyalty app developed in 2019, coincidentally before COVID, paid off big time for the brand. A minority investment from 10 Point Capital in July 2019 helped shore up the balance sheet. But Slim Chickens' biggest achievements go beyond single tactics. "Personally, we always think about how we want to be the franchisors the franchisees love, and not have an adversarial relationship, as so many end up having when the company's been around a long time. Honesty and integrity are the only currencies we have," Gordon said. "We're proud of it. We're proud of the perseverance we've shown. We're proud that we have a great group of franchisees that I think are happy with the brand."
---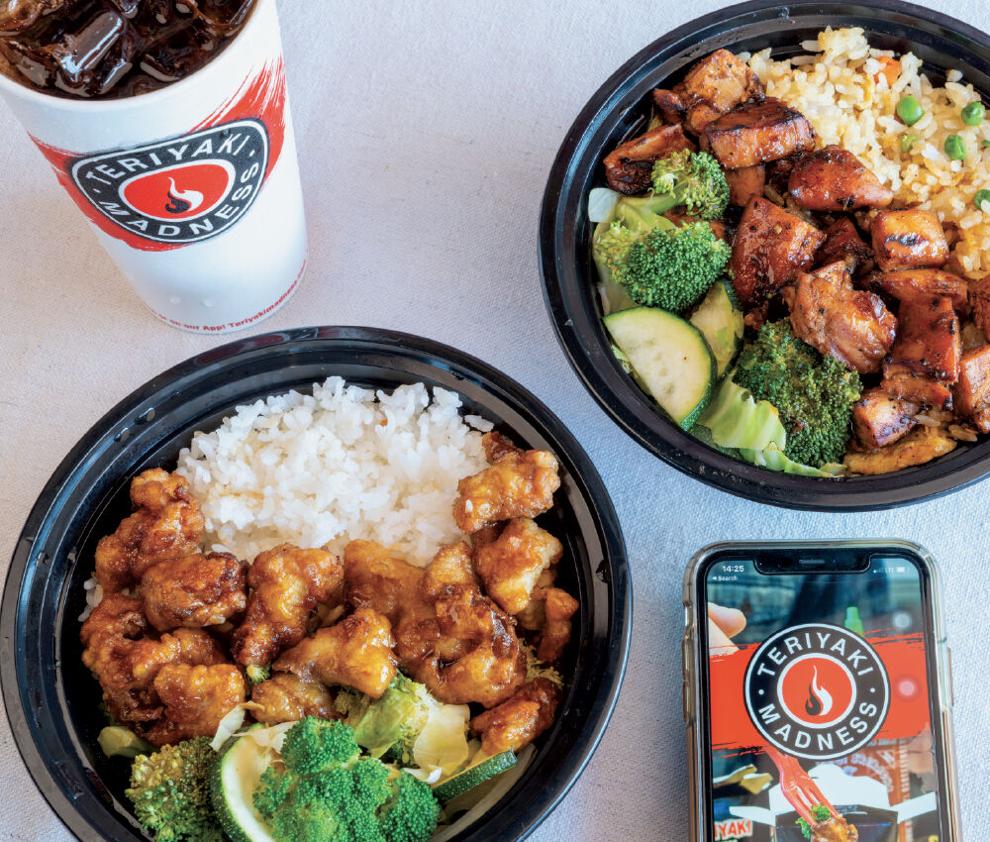 #6 Teriyaki Madness
Asian quick-service restaurants
When CEO Michael Haith bought Teriyaki Madness in 2016, he immediately began an effort to upgrade technology that proved fortuitous. "We had set up for convenience, and the puck kind of went where we were. We had enormous growth in sales, 24 percent same-store sales during COVID," he said. Before the pandemic, pickup, catering and delivery made up about 65 percent of sales; that jumped to 85 percent "and we've only lost a little bit of that," a couple of points, now. Choosing tech providers wasn't easy. "It doesn't matter how many times I go to a trade show, I'm amazed." He can listen to their spiels for 15 minutes "and I still don't know what they're talking about," he said with a laugh. "We just decided if we're going to do this, we're going to go with the folks with the main reputation. Our tech stack was really designed to be best in class." A shift in mindset toward staffers also helped the brand grow. "We've started to have more of a gig economy attitude, where folks aren't necessarily hired for full time. How can we flex to their schedule? How can they come over for a few hours over the lunch rush? How can we make it work for their life?" he said. "If you look at how work has changed, it started to occur to us, maybe we should allow 30 to 40 employees to be on payroll" and work full time or any other way, as they wish. "And we focused on communicating our culture. We're a little left of center here, we're a little kooky," he said. So far, kooky is working. Teriyaki Madness grew system sales by 117.2 percent from 2019 through 2021, to $94 million, and units by 85.7 percent, to 117.
---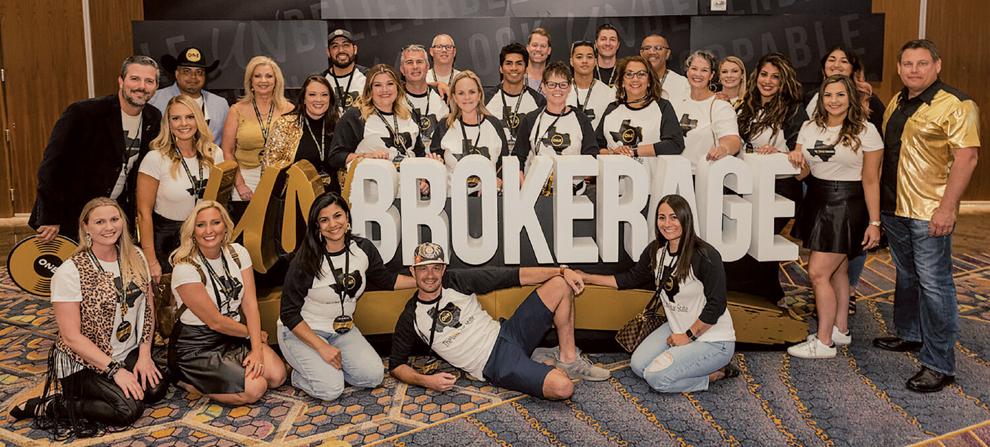 #7 Realty One Group
Residential real estate brokers
The second real estate brokerage on the Fast & Serious top 10, Realty One Group's founder Kuba Jewgieniew said his biggest challenge has been "finding the right talent at the right time," and these days he thinks he's got the formula. "About five years ago, we conscientiously overhauled systems and infrastructure and some of our executive team, in preparation for not only domestic growth but also to scale and become an international brand," he said. "We're more aligned now than ever before. We have a dream team. We believe this is our trusted tribe." The last few years have been remarkable in the real estate business. "On average in America, people somewhere between doubled or tripled their net worth. In history, when can you go back and point, in two years, average Americans doubled their net wealth? They were not only moving out of their primary residences, they were buying Zoom homes, RVs for mobile offices. They were buying fourth or fifth second homes or vacation homes," he said. "What's even more important that we're watching, people over-extended themselves, buying toys, jet skis, boats or this or that. It's kind of déjà vu of '07 or '08. People built up more expensive lifestyles, and now, with high inflationary environments, and unemployment's going to go up, there's just a lot of headwinds. People don't like to live below their means, but it's very interesting to see what happens in 2023, when this loosey goosey" spending may stop. His "dream team" can thrive in that environment, he believes. "Some of these non-career realtors are going to be flushed out, and some of the realtors that are top producers…that are $50 million a year producers, $100 million a year producers, they haven't been through a violent shift or a down cycle. The last one was 2008," he said. "It's an opportunity to coach them."
---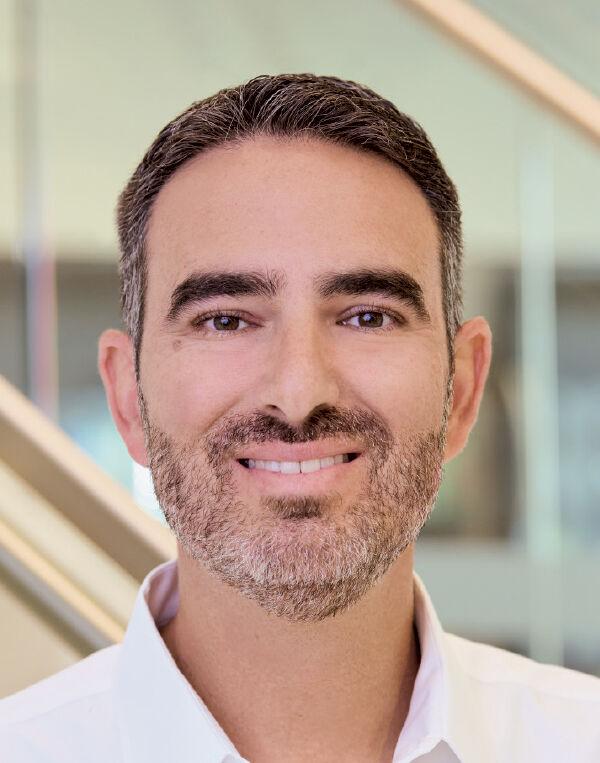 #8 Take 5 Oil Change
Quick oil change shops
Up to No. 8 from No. 19 the prior year, Take 5's President Danny Rivera counts as key a "data-driven approach" to all aspects of the business, including key performance indicators from site selection to marketing to operations. "Because we focus on the KPIs we know drive performance and efficiency, we are able to deliver ongoing operational feedback to our teams and franchisees to constantly improve." Customer service is also a focus, and Take 5 was recognized as No. 1 in customer satisfaction for quick lube by J.D. Power for the second year in a row, Rivera said via email. A "Pit Tech to President" program helps Take 5 compete in the labor market by demonstrating "a proven career path" for anyone who works there. And a centralized large-scale procurement operation helps mitigate rising costs and "keeps our stores in stock when others are not."
---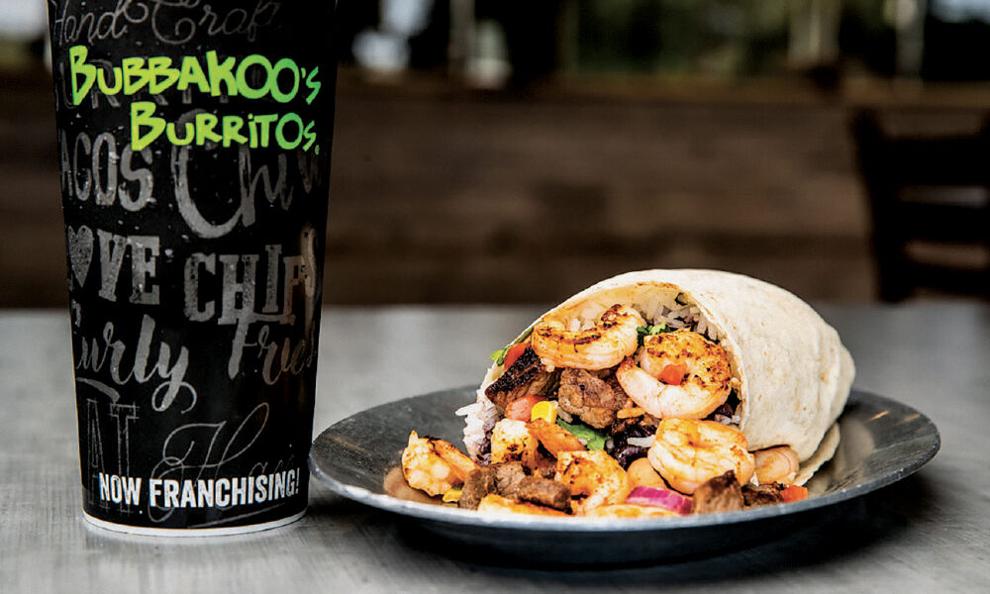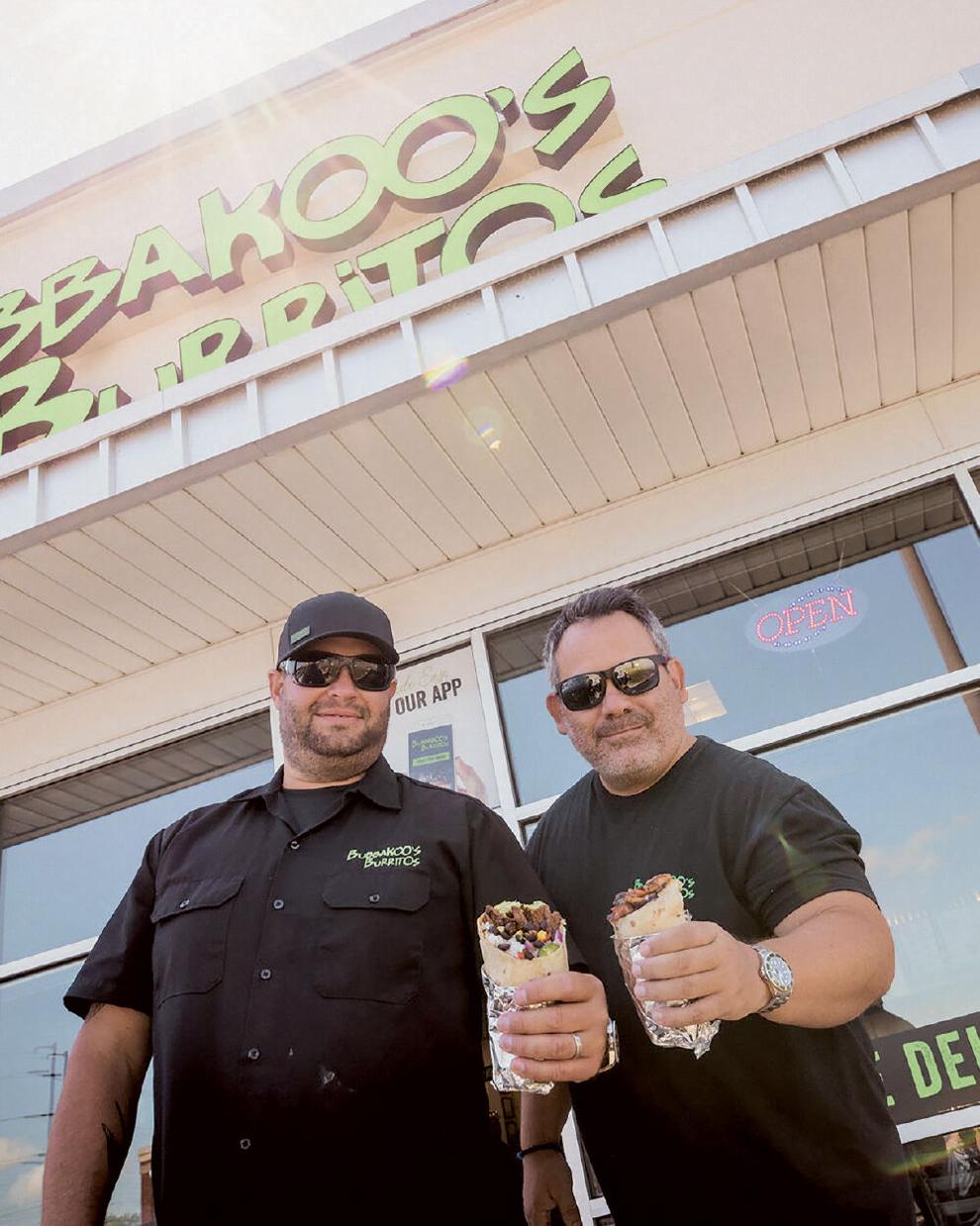 #9 Bubbakoo's Burritos
Fast-casual burrito restaurants
CFO Chris Ives joined Bubbakoo's four years ago, starting when they had 17 stores and they're now at 63. He began his career as a certified public accountant at EY, formerly Ernst & Young, and then worked for clients building fintech companies. But his best experience in what not to do came at his family's smoothie brand, which they started back when acai bowls were going gangbusters. "We grew too fast and the wheels came off. I said, don't do what I did," when he joined Bubbakoo's. Bill Hart and Paul Altero founded the brand in 2008 and began franchising in 2017, starting by convincing general managers in the restaurants to become owners. "Obviously operations were great" among those former GMs. "It was teaching them the human elements of the business, along with the business side of things, with paying bills and cash flow. If we can get all of our managers or crew members to be an owner, that would be amazing," Ives said, adding with a laugh, "Our motto is definitely over-support, and definitely suffocate them so they want us to be out of their stores. We're an operations-first brand."
---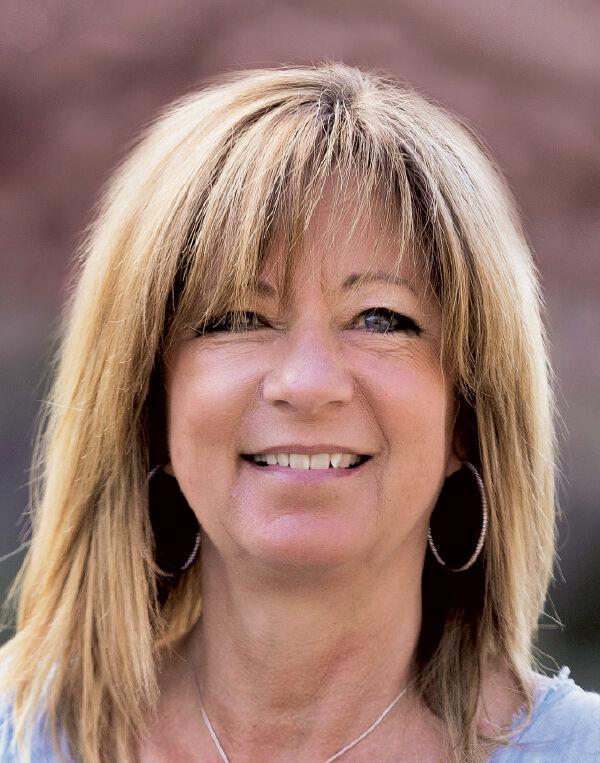 #10 Ace Handyman Services
Home repair services
Ace Handyman Services debuts on the Fast & Serious ranking with some eye-popping numbers: sales up 865.5 percent over the last three years, to $50 million, and units up 95.9 percent to 239. "I know, right?" said Colette Bell, who heads development for the franchise she co-founded with her husband, Andy, in 1998 and began franchising in 2001. "Just hand us a great brand name and a pandemic and watch out!" Ace Hardware purchased the franchise and rebranded it from Handyman Matters in 2019, and the retail giant left the management team in charge but with many more resources. "We've been very fortunate that Ace has continued to invest. Sometimes that's the end of it with private equity—here you go, make more with less. Ace has not done that. We need more head count, and we need it before" the growth curve. "What happened with a lot of concepts during the pandemic was constriction," so they were able to pick up talented executives from other brands. "We went from 18 to 52 for the corporate staff. That investment is really what has kept the wheels on the road. That, and not falling romantically for—I think sometimes what franchise concepts do at this stage is they sell too many territories to one person. Our model, we know, has always succeeded at the owner/operator level, meaning franchisees roll up their sleeves." Franchisees employ their service people, unlike other brands, she said. "The craftsmen are W2 employees. There's extra costs to this, there's also extra management. We believe that's a huge differentiator for us," allowing them to do background checks as well as provide "soft skills training, customer service, time management." One final boon under the Ace umbrella: huge buying power. For one example, operators are now buying uniform T-shirts from an Ace Hardware vendor, with the price cut from $12 to $5.
---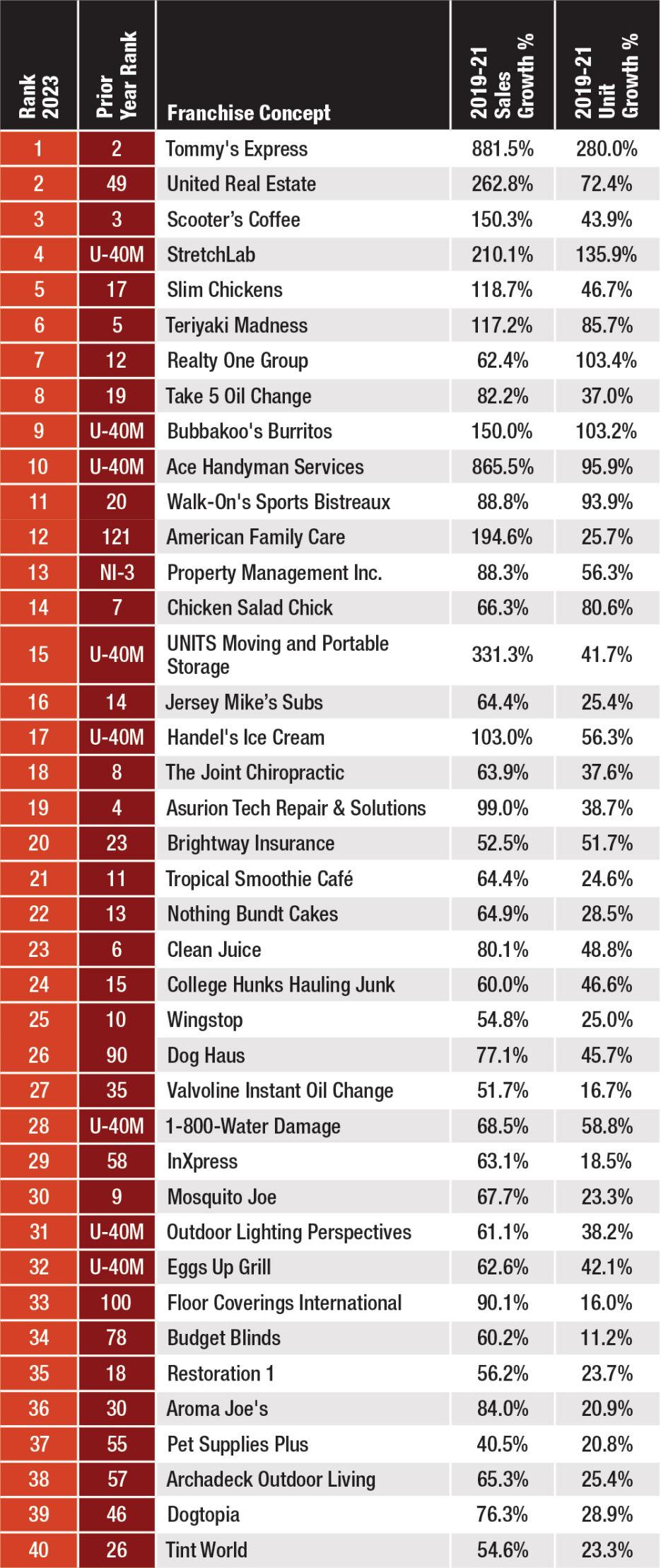 Franchise Time  Fast & Serious 2023
To rank the smartest-growing franchise brands, we analyze information on 10 data points using a proprietary formula. Two of those data points, systemwide sales growth and unit growth over three years, are shown here. See "about this project" on page 40 for more information on how we create the ranking.
---
About this project
Franchise Times created a formula to identify fast-growing franchise systems that also have staying power, as an antidote to multiple other rankings that include too many one-year wonders. Controller Matt Haskin developed a proprietary 10-point formula, including percentage sales
growth, percentage unit growth, dollar sales growth and numerical unit growth over the past three years. The database for the project is the Franchise Times Top 500, our annual ranking published in October of the largest franchise systems by revenue. Haskin identified the companies that submitted information for all three years for that project, then selected for analysis those with systemwide sales above $40 million.