"I think we can achieve 1,000 stores …We have 1,300 in South Korea, and the population is only one-tenth of the United States."
—Tony Ahn, CEO, Tous les Jours USA
---
Tous les Jours means "every day" in French, and the French-Asian bakery-café chain hopes to make its artisan pastries, gourmet cakes and freshly baked bread an everyday habit in its push in the United States. With more than 70 cafes stateside, 1,631 worldwide and $697 million in system sales in 2021, Tous les Jours debuts on the Franchise Times Top 500 this year at No. 122.
But the roots of the chain date to 1953 amid the devastation of the Korean War and the launch of Cheil Jedang, now known as CJ Group and one of the largest "chaebol" or family-controlled conglomerates. Founder Lee Byung-chull built a sugar mill in Busan, South Korea, to reduce the country's dependence on expensive sugar imports, then followed with a flour mill using Korean-made machinery in 1958.
Forays into artificial seasonings followed, along with other products like a hangover cure called Condition and instant cooked rice called Hetbahn. Since CJ spun off from Samsung in 1993 it has morphed into food and foodservice; biopharmaceuticals; entertainment and media; and home shopping and logistics. Its restaurant brands include steakhouse VIPS, A Twosome Place, Bibigo, Seafood Ocean and Fisher's Market, along with Tous les Jours.
CJ even made a splash in Hollywood. The movie "Parasite," the 2019 South Korean black comedy thriller, was produced by CJ and made history in 2020 when it became the first non-English-language film to win the Oscar for best picture. Recently the group acquired Endeavor Content, a Hollywood movie studio that produced the movie "La La Land," which infamously "won" the Oscar by mistake in 2017 due to misplaced cue cards, only to have the correct winner, "Moonlight," take the award.
CJ Group continues to stay in the news though its family ties to Samsung, a feud among heirs to the Samsung fortune and even a presidential pardon.
CJ Group Chairman Lee Jay-Hyun was convicted in 2014 of tax evasion and embezzlement, and released from prison in August 2016 in an annual presidential pardon.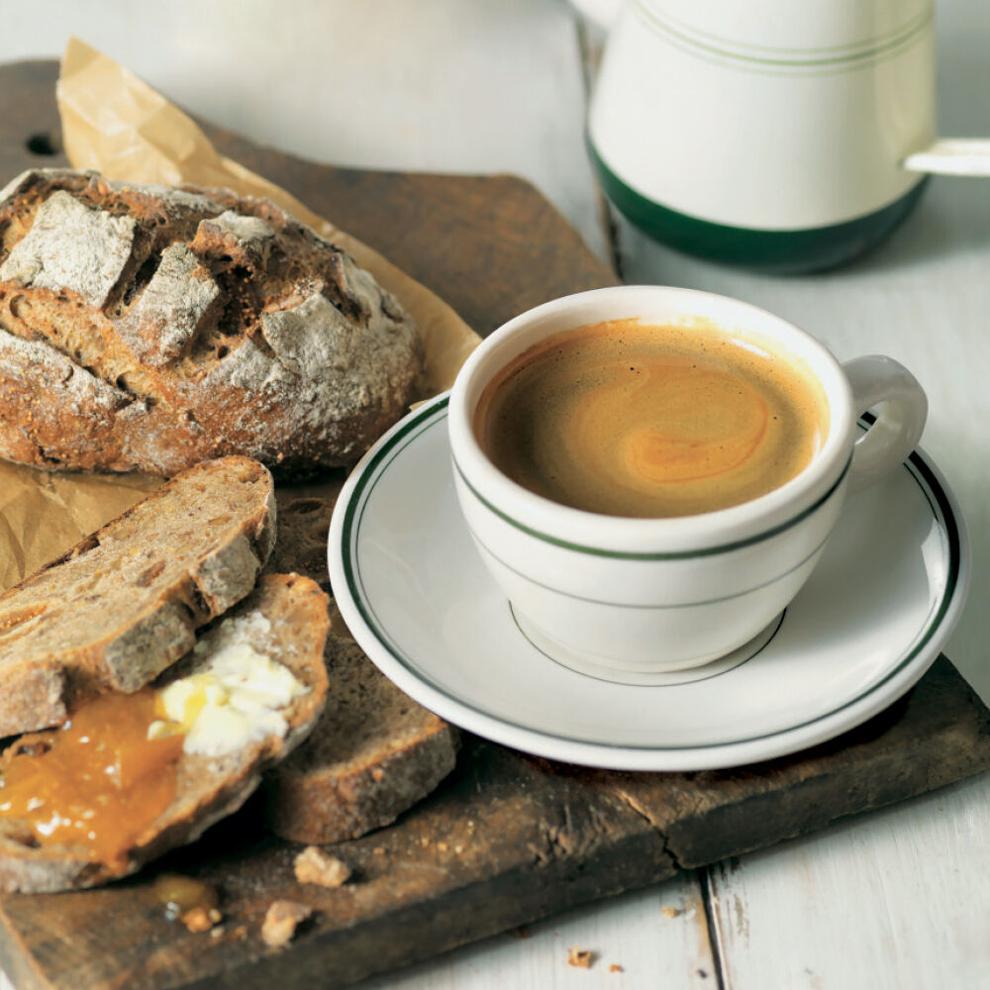 'Deep dive' into American culture
Enter Tony Ahn, CEO of Tous les Jours and a South Korean man with a worldly resume who was dispatched to California in January 2017. "Before that, as the head of the global business, I managed revenue growth for our overseas subsidiary," known as CJ Foodville, he said. "I've tapped into China, Mongolia, Vietnam…I served as a managing director for an investment bank, doing acquisitions. During my journey I could learn several languages, and I can speak five languages."
Educated with a degree in English literature from Seoul National University, Ahn also attended Tokyo University of Foreign Studies as a one-year exchange student with a full scholarship, studying international relations and affairs. He now attends an MBA program at the University of Southern California's Marshall School of Business. "I think I need to deep dive into American culture and people," he said. "The most impressive thing is, most people" in the U.S. "highly praise diversity, and are very adventurous in every aspect of life, not only in business."
Tous les Jours opened its doors in 1997 in South Korea, with its first U.S. store in 2004. Same-store sales in the first quarter of 2022 increased 24.2 percent over the same period last year, while total system sales jumped 42.4 percent. First quarter daily average unit volumes grew by more than 25 percent year over year, the company announced. The brand expects to open its hundredth location in 2022, and will debut next year a new corporate flagship store.
"We currently operate 80 stores across 20 different states and have signed 15 new franchise agreements the first half of this year," Ahn said. The largest markets are California, Texas and New York, but less populated markets do well, too. "Three months ago, we opened the one in Omaha, run by Chinese-Americans and having extensive experience in restaurant and food businesses, and they are doing great. They are doing more than double our expectations. Recently, most of the potential franchisees contacting us are Asian-American."
The franchise makes the dough, quick-freezes it and sends it to the bakeries. "Early in the morning at 4 a.m., they thaw the product and bake that," he says. "Our philosophy is to bake every day." Each store has 20 to 25 employees. "I think we can achieve 1,000 stores, hopefully by 2030. We have 1,300 in South Korea, and the population is only one-tenth of the United States. I think we have a great opportunity."
Panera leads category
An eclectic mix of foreign and U.S.-born brands, the bakery/café-deli category posted $8.48 billion in system sales last year from eight franchises, up 13.2 percent from the year before, according to the Franchise Times Top 500. Unit count was 5,750, up a mere 3 percent, meaning better average unit volumes for the category as a whole.
Panera Bread leads the pack in system sales, with $5.5 billion, up 10 percent, from 2,118 units. Paris Baguette is right behind, with $5.4 billion, but with nearly twice the number of units, 4,101, meaning half as much in sales per unit. The brands rank No. 24 and No. 25, respectively, on the Top 500.
La Madeleine, established in Texas in 1983 but now with an international pedigree under French parent Groupe LeDuff, posted sales of $166 million last year, up 41.7 percent from the year before. Gong Cha, started in 2006 in Taiwan, posted $380 million in sales, a 4.9 percent decline from the year before. Einstein Bros. Bagels, with sales up 19.5 percent to $490 million, was launched in Miami in 1996; now it's owned by JAB Holding Co. of the Netherlands.
The all-American brands on the list, meanwhile, turned in strong sales growth. Founded in Beaumont, Texas, in 1976, Jason's Deli was up 34 percent to $536 million. McAlister's Deli, founded in Oxford, Mississippi, hit $870 million, up 29.1 percent. Also hailing from Oxford and founded by the same father and son pair Don and Chris Newcomb, Newk's Eatery, up 10.7 percent, pushed to $208 million. And Schlotzsky's Bakery Café, founded in Austin, Texas, and named for a random pattern in a set of children's building blocks, hit $332 million, up 9.2 percent.
Three stores and counting
Jae Hwan Kim and Daniel Lee are friends, business partners and Tous les Jours franchisees in Oregon. "We were looking into the market in the area and we saw there was a niche we could fulfill with the Tous Les Jours franchise," Kim said. "January of 2019 we opened our first store. We just opened our third one in May of last year. Hopefully, we're still scoping out a location for our fourth one next year."
Kim runs two motels and resorts on the Oregon coast; Lee has experience running a bar. "The folks here love the brand, not necessarily the brand, the products," Kim said. "There are a lot of independent bakeries, too. They're mostly clustered around certain sections of the city. We try to target everyday places. Our first one is next to Trader Joe's. Were pretty analytical with our products. We try to give it a time, see how it sells."
Their latest bakery cost $800,000 to open, and they raise capital through friends and family and via loans. The biggest challenge at first is construction, he said. "Once it's up and running, usually it's the supply chain, raw materials, commodities." A final challenge is customers who don't speak French. "Pronouncing it is always hard. We shorten it down to TLJ to make it easier."
Meanwhile Ahn and his team work to merge many cultures from company headquarters in L.A. He says his favorite author is W.B. Yeats, the Irish-born poet awarded the Nobel Prize for literature in 1923. "I used to be a big fan of the poems but I can't anymore," he said, meaning recite them from memory.
As for his favorite thing about America: "In USA there are so many adventurous things to do like camping, fishing, hiking, biking," he said, adding every day at 5 a.m. he climbs the mountain behind his house near the Hollywood Hills before heading to the office. By 8 a.m., he's back to his mission: making Tous les Jours a daily part of the American way.