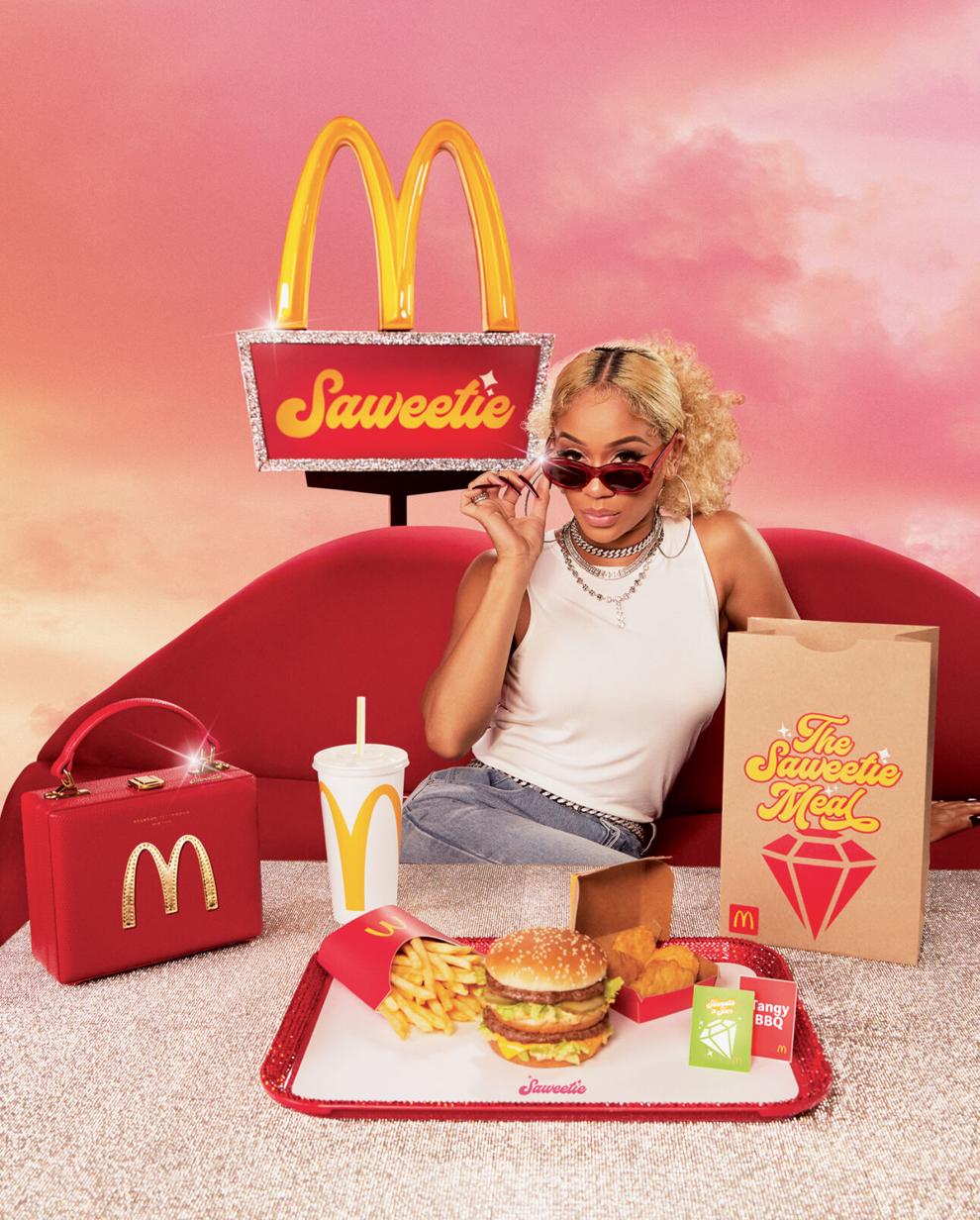 It didn't take long to rouse the haters when a new Clean Juice store opened in Edina, Minnesota, shortly after the brand announced its new partnership with Tim Tebow, the Christian philanthropist and football player who's loved and hated in equal parts.
Christian slogans such as "I run on Jesus and juice" appear on the T-shirts and a prayer request jar perches at the entrance to the store. "Is this Mormon Herbalife?" snarked one on Twitter, while another just said, "Wow. Hard no."
And so it goes for a host of quick-service restaurant brands that are inking partnership deals with celebrities. Subway rolled out a campaign featuring football great Tom Brady, tennis superstar Serena Williams and soccer champion Megan Rapinoe, among others, the last of whom drew franchisee protests because she kneeled during the national anthem and drew criticism from President Donald Trump at the time.
Taco Bell has Lil Nas X. Popeyes booked Megan Thee Stallion. McDonald's has special meal deals with pop superstars BTS, Saweetie and more, with the BTS deal alone lifting sales by 25.9 percent in the second quarter of 2021 compared with the year before, according to CNBC.
These brands and many more are navigating the fame and the fun of celebrity partnerships, along with the backlash.
Tim Tebow's partnership with Clean Juice, inked last August, came about in a low-key manner. "I hate to make it sound so simple but it really was kind of that way," said the philanthropist, public speaker, sports broadcaster, author and former member of the NFL's Jacksonville Jaguars before getting cut in August 2021. "It was a really good product and really good people."
Kat and Landon Eckles are the founders of the Charlotte, North Carolina-based USDA-certified organic juice and smoothie franchise, which posted $41 million in sales from 104 units in 2020. In 2021 it projected system sales to reach $60 million, with more than 70 stores in development. It's by far the smallest QSR brand to sign a high-profile celebrity deal, and CEO Landon Eckles said he's thrilled with the choice.
"It's a huge step for our brand," said Eckles. "We want to make Clean Juice a household name. When we started to think about the people who are out there, we couldn't have come up with a better person than Tim Tebow, for many reasons."
Tebow is widely known for his Christian religious beliefs, as are the Eckleses. "Our mission statement is from the Bible, it's 3 John 1:2. This is how Kat and I feel a calling in our lives to be doing what we're doing," Eckles said.
"What the company stands for is never going to change. We do get some criticism. Our foundation of what we do is we want to love everyone, and we want to promote health and wellness and spirituality. If everyone is not into that, that's OK, but the majority of people are."
Eckles said he and Kat are paying at the corporate level for the partnership, terms of which he declined to disclose, so franchisees get the benefit of "millions of dollars" worth of promotion from Tebow without paying a dime for it.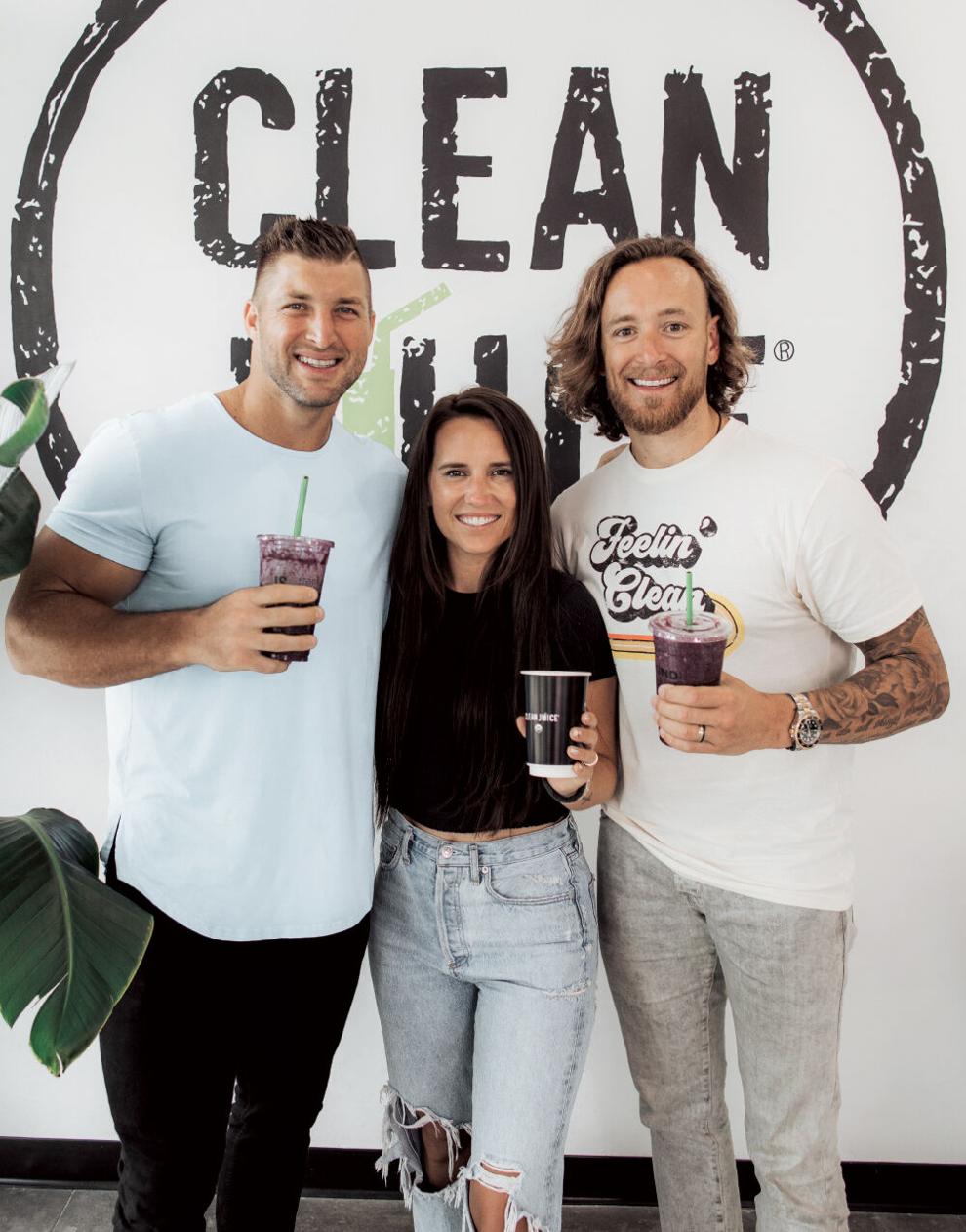 Tebow said he built up a relationship for more than two years before agreeing to the deal. "When I first had the chance to get to know Kat and Landon, I felt a connection there, and similar hopes and goals," Tebow said.
"We had several friends in common in the Charlotte area, the church they go to, their pastor and a lot of the people there. I'm friends with someone who works with us in anti-human trafficking areas. We had people say, 'Hey, y'all need to meet.'"
In the case of Tebow, known for kneeling and praising God and Jesus on the field and off, people seem to either love or hate everything he does. ESPN's Anthony McFarland, for one, called him a "polarizing former athlete that we can't stop talking about."
Tebow takes the so-called Tim Tebow Effect in stride. "I'm so grateful that because of sports and other things, I was blessed with a platform that gives me a chance to do what I'm truly passionate about, and that's fight for people who can't fight for themselves," he said, "whether that's with our hospitals, rescuing people out of human trafficking … all of it is helping people in their darkest hours of need."
When he was younger, "It was also really hard, because of the criticism and the naysayers, and I remember multiple times going to my dad. 'Dad, if they would just come talk to me and get to know me, I really believe they would like me.' We had a couple of very honest conversations about, 'You know what, Timmy, unfortunately there's probably going to be all those people that don't want to get to know you.' And that was I guess good advice but a little bit hard to take."
Tebow's deal with Clean Juice is to be brand ambassador, an equity investor and to open new corporate restaurants in partnership with the Eckleses, including beyond the Bible Belt where their religious beliefs may not be as popular.
"I think really what they do is, they love people well. When you look at the scripture they choose, the quotes they have, it's really to encourage people. The fruits of the spirit, and kindness and being healthy in body and strong in spirit," Tebow said about the Eckleses.
"It's really to encourage and love people, and yes it comes from a faith-based background, but I'm grateful they're not ashamed of that. They're confident in that, and they're secure in that. But I don't think it's something they try to push on anyone. It's something they're open to share."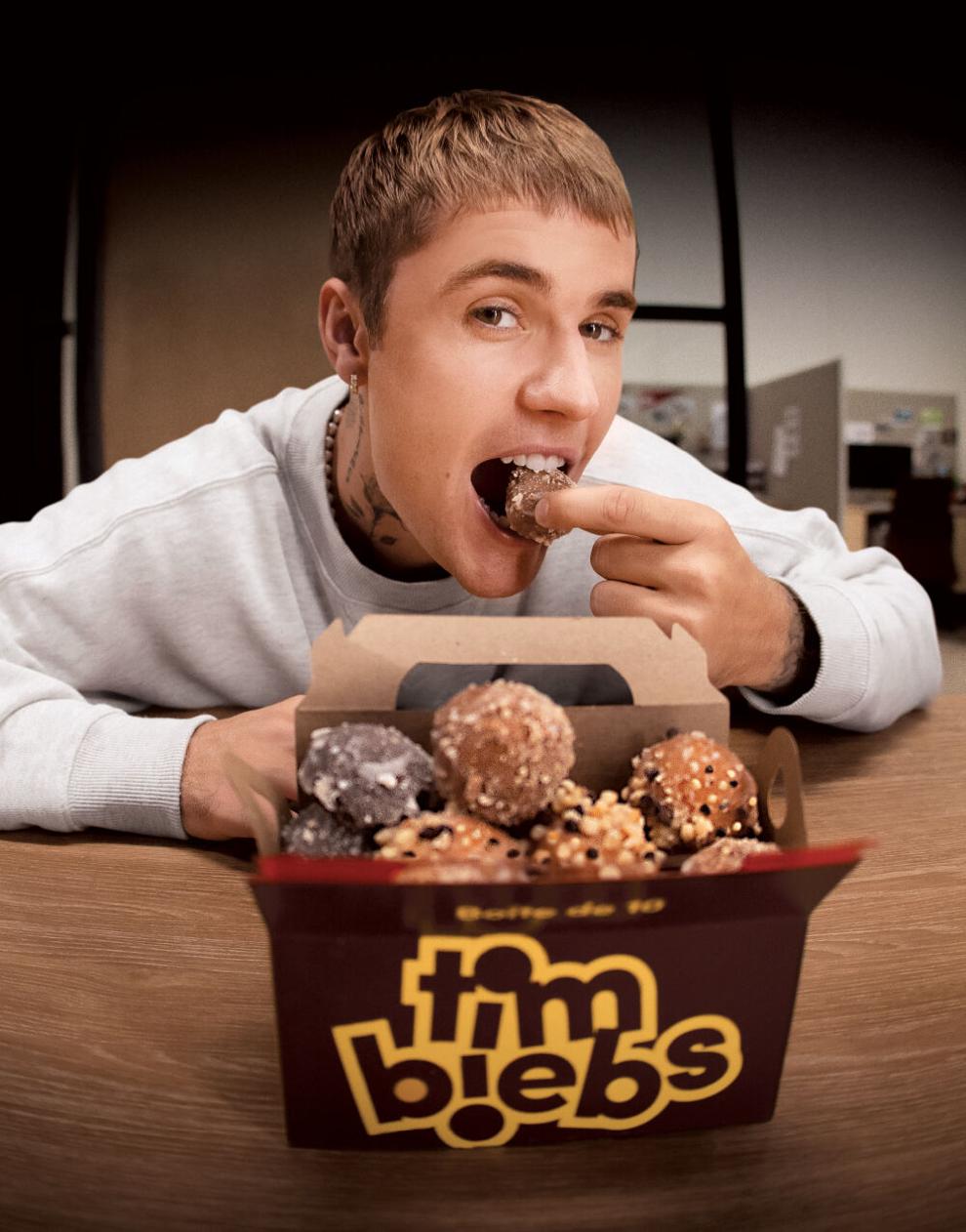 Justin Bieber manifests for Tim Hortons
Canadian pop singer Justin Bieber must have been an early adopter of the "manifesting movement" (which says if you believe it, it will happen) when he posted this tweet on November 22, 2011: "got my TIM HORTONS…good day so far. #CANADIAN"
Because 10 years later, on November 29, 2021, Ontario-born Bieber launched the first new limited-edition menu item from his collaboration with Canadian QSR brand Tim Hortons: Instagram-worthy donut holes dubbed "TimBiebs TimBits."
The partnership semi-officially began with a Zoom call in the spring of 2020, said Hope Bagozzi, Tim Hortons' chief marketing officer. On that initial call, Bagozzi thought it was a meeting just with Bieber's team. At one point, a participant's box with its camera off suddenly turned on, and it was Bieber.
"So we start having this great chat about his deep connection to the brand, his favorite menu items, and then he talks about a little song about Tim Hortons that he used to sing to his siblings," Bagozzi recalled. "Then he grabs a guitar and starts performing the song. I was working from home that day and texted my husband, 'Justin is performing for us!' You could've knocked me out of my chair, I was just in shock at what was happening."
Bieber continued to be very hands-on during the process of developing TimBiebs, from the name and marketing to flavor ideas and taste testing, Bagozzi said. "Justin was personally reviewing and involved in every piece of this campaign, which just speaks to the authenticity of this partnership."
Though Bagozzi said she couldn't release sales figures outside of parent company Restaurant Brands International's earnings report, the Tim Hortons team was "thrilled" by the response from guests in the U.S. and Canada. The partnership also includes a line of TimBiebs merchandise developed with Bieber, including a beanie, a fanny pack and a tote bag that are not available on the Tim Hortons website and will not be restocked once sold out.
If it's any indication of sales, an empty, used TimBiebs donut box "with crumbs used, great condition" was listed on eBay for $500, the Toronto Star reported, while a fanny pack, which retails for $29.99, was listed at a whopping $2,500.
While sitting at a Tim Hortons on the day TimBiebs debuted, Toronto entrepreneur Shez Mehra tweeted: "5th person in a row has ordered a Justin Bieber hat and they're sold out of TimBiebs. The collab is driving in-store merch sales and they're sold out of product."
A one-minute TV commercial shows Bieber juggling TimBits in a fun re-enactment of the collaborative process. "Could you imagine if we did a birthday cake waffle TimBit?" Bieber ponders during the ad. Two giant white boards show a plethora of TimBit flavor ideas, with Bieber shouting out ideas such as apricot latte. "No, that's weird," he realizes the next moment. The birthday cake waffle idea stuck, as did chocolate white fudge and sour cream chocolate chip.
As much as TimBiebs was about partnering with Bieber, it was also about menu innovation within one of Tim Hortons' core categories: baked goods. The brand has made a number of "big product quality improvements across our menu" in 2021, Bagozzi noted, "and TimBiebs was another big menu item we're thrilled to launch."
This is Tim Hortons' second collaboration with a Canadian pop singer in the last few years, following a campaign in 2019 with Shawn Mendes that included an ad and limited-edition cups—which "was another great partnership for us, with another beloved Canadian who is also a huge star around the world," Bagozzi added.
"What's amazing about working with Justin is he has an authentic, lifelong relationship with Tims," Bagozzi said. "He's become a global star, one of the biggest names in music in the world, but he remains really proud of his Canadian roots and he feels like Tims is a taste of home. So Justin truly is a partner, he loves the brand, we've wanted to work together for a long time and we were both really happy to finally collaborate."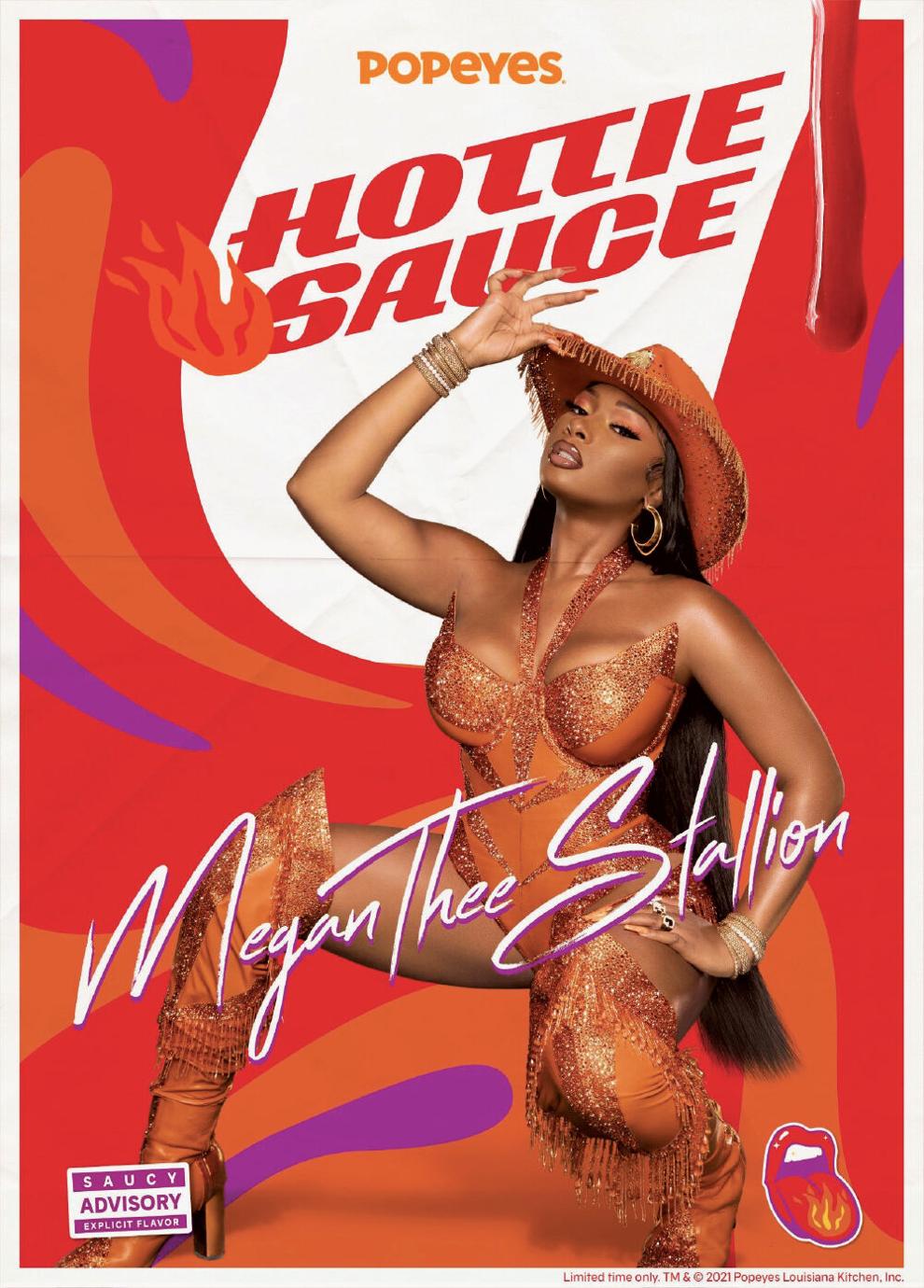 Megan Thee Stallion rides for Popeyes
Popeyes relationship with Megan Thee Stallion, the Houston rapper and songwriter, began when she declared herself a super-fan of its new chicken sandwich, launched to great acclaim in 2019.
Last October, her first animated commercial debuted to promote her new "Hottie Sauce" for Popeyes. A glitter-clad cowgirl bursts through a saloon door, shouting, "Someone stole your Hottie Sauce! All of it." Megan Thee Stallion, or to be precise her animated character, wearing a halter bodysuit with fringe and thigh-high orange sequined boots, roars off on a motorcycle.
"Not my Hottie Sauce!" she says, on her way to a showdown. "Give me back my Hottie Sauce, or else." The partnership includes merch, including bikinis with flames on the top and sweatshirts, too. Megan Thee Stallion also signed a deal to open five franchised Popeyes stores in Texas.
"Organically, on social media feeds, she was tracking with the brand in a way that felt very authentic. She was someone we always saw as a good ally for the brand," said Bruno Cardinali, Popeyes chief marketing officer. "And when we thought of doing a new sauce, and inviting someone to participate in that process, her name came up rapidly. We did our homework to get to know her even better, really getting to the table with her and talking about her aspirations and our aspirations. Things just started to click from the beginning.
"It was great to work with her, and to work with Rock Nation who manages her. It resulted in a very good outcome for Popeyes for sure, for her as well. I think we're happy to see true collaboration come to life."
Popeyes developed a new product in collaboration with the artist, created a merchandising line, worked together in selecting the director who did the commercials, and worked together on the animator for the films. When she also signed a deal to develop five stores as a franchisee, it "was icing on the cake, which gave us a lot of pride."
He said a lot of homework goes into a celebrity collaboration—this is Popeyes' first—including two separate research projects. One was "more vague" in how receptive people would be if Popeyes partnered with someone, and a second researched Popeyes and Megan Thee Stallion to see how people responded to the two names.
The research has to be stealthy, however, so people don't find out before a collaboration is ready to go. "We did engage the marketing council of franchisees, so they were aware," but did not discuss the idea beyond that council because they feared a leak.
"It's doing the work, doing the diligence, understanding the personality, understanding your brand, and bringing everyone on the journey with you," he said. Cardinali declined to disclose specifics about the cost of the deal or the terms, and it was too early in December to divulge specific results except to say they're pleased.
He said ultimately brands have to be bold. "As you and I know, it's hard to please everyone. So I'm not going to tell you everybody's happy. There's never a hundred percent of anything," but he thinks they're in a "good place."
A slew of Famous Orders at McDonald's
McDonald's customers are framing receipts from the brand's Famous Orders celebrity meals and selling them on eBay. Some customers pull up to the drive-thru blasting "Goosebumps" or another Travis Scott song and simply tell the employee, "you know why I'm here."
Colombian reggaeton artist J Balvin stopped by a drive-thru to order his meal and take pictures. And the McDonald's hashtag trended No. 1 on Twitter in the U.S. when the brand announced the BTS Meal in collaboration with the South Korean boy band.
That's according to Vicki Chancellor, McDonald's U.S. Franchisee Marketing Committee chair and a 15-year McDonald's franchisee.
"The big idea for adding celebrities' go-to orders, like the BTS Meal, to our menus kicked off back in January 2020, when we released a Super Bowl commercial featuring the 'trays' of several different celebrities," Chancellor said. "It was based on this widely known truth … that no matter how big or famous you are, everyone has a favorite McDonald's order."
That includes each band member from BTS, who "had their own memories of the brand going back years, whether that was from their high school days or enjoying their favorite order while on tour," Chancellor said.
The BTS Meal ran from May 26 to June 20, 2021, in the U.S. and consisted of a 10-piece Chicken McNuggets, medium French fries, a medium soda and Sweet Chili and Cajun dipping sauces—inspired by recipes from McDonald's South Korea that were made available in the U.S. for the first time.
Meanwhile, rapper Saweetie launched her remix meal on August 9 consisting of a Big Mac, a four-piece Chicken McNuggets, medium French fries, a medium Sprite, Tangy BBQ Sauce and "Saweetie 'N Sour" sauce (aka sweet 'n sour sauce). "With Saweetie, fans showed so much excitement on social for her remixed meal … and we saw customers trying the Big Mac for the very first time," Chancellor said.
But why would the world's largest fast-food franchise need advertising help from celebrity partnerships? Part of the answer might be because the Golden Arches brand saw a 6.8 percent dip in sales in 2020, according to Franchise Times Top 400 data. But it's also about reaching younger generations as a longer-term growth strategy.
"We're driving more and more customers to the app with these orders, and the beauty of it is we're not introducing any new menu items, but celebrating some of the longtime favorites on our menu in new ways," Chancellor noted. Celebrity partnerships helped drive sales for the company in the second half of 2020, she continued, with the BTS Meal resulting in "significant lifts in Chicken McNuggets sales globally."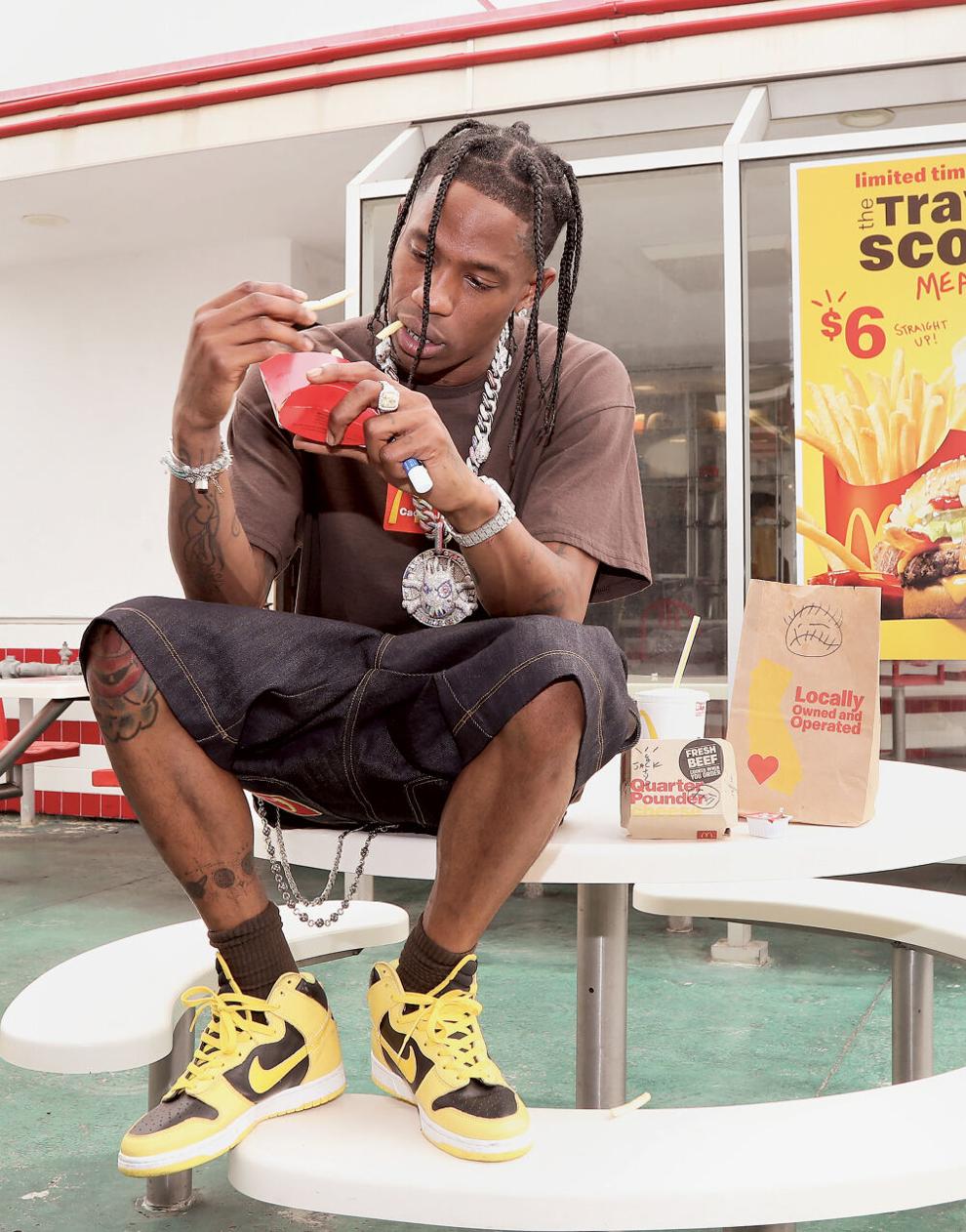 McDonald's second quarter results in 2021 included a 14.9 percent comparable sales increase on a two-year basis in the U.S., driven by larger order size and menu price increases. "The Crispy Chicken Sandwich and BTS Famous Order promotion, as well as growth in delivery and digital platforms, contributed to the comparable sales growth," it said in its quarterly SEC filings.
That doesn't come without costs, however. McDonald's spent more than $10 million in marketing during the time period the BTS Meal was available, which included a 15-second YouTube ad that garnered almost 40 million impressions, according to data from marketing intelligence firm Pathmatics.
The firm also reported McDonald's allocated 12 percent of spending share to Instagram during the promotion.
The brand's latest collab featured Mariah Carey, "the queen of the holidays" for a special "Mariah Menu" during 12 days of December, where a different free menu item was offered with a $1 minimum app purchase. Customers will have to stay tuned for who McDonald's will partner with next, Chancellor added.
---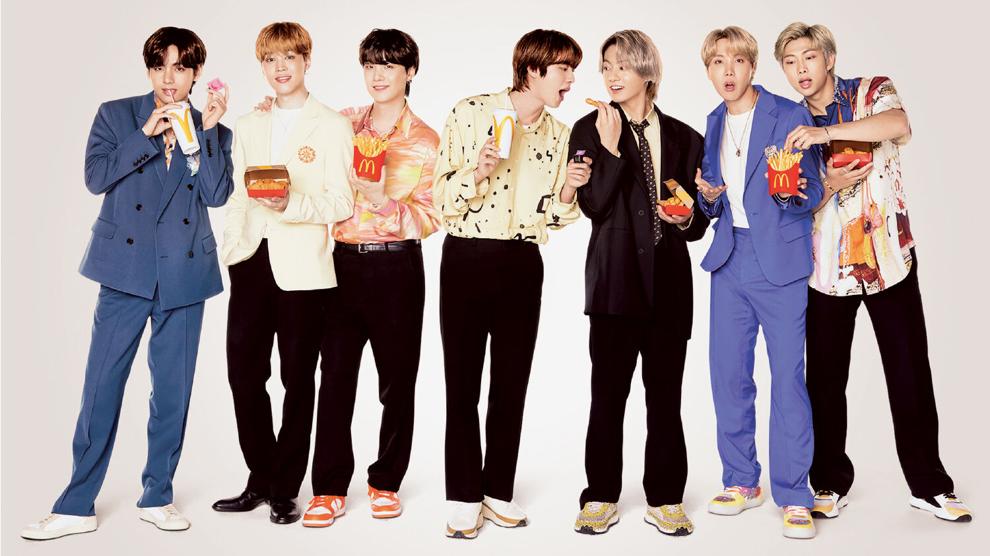 ---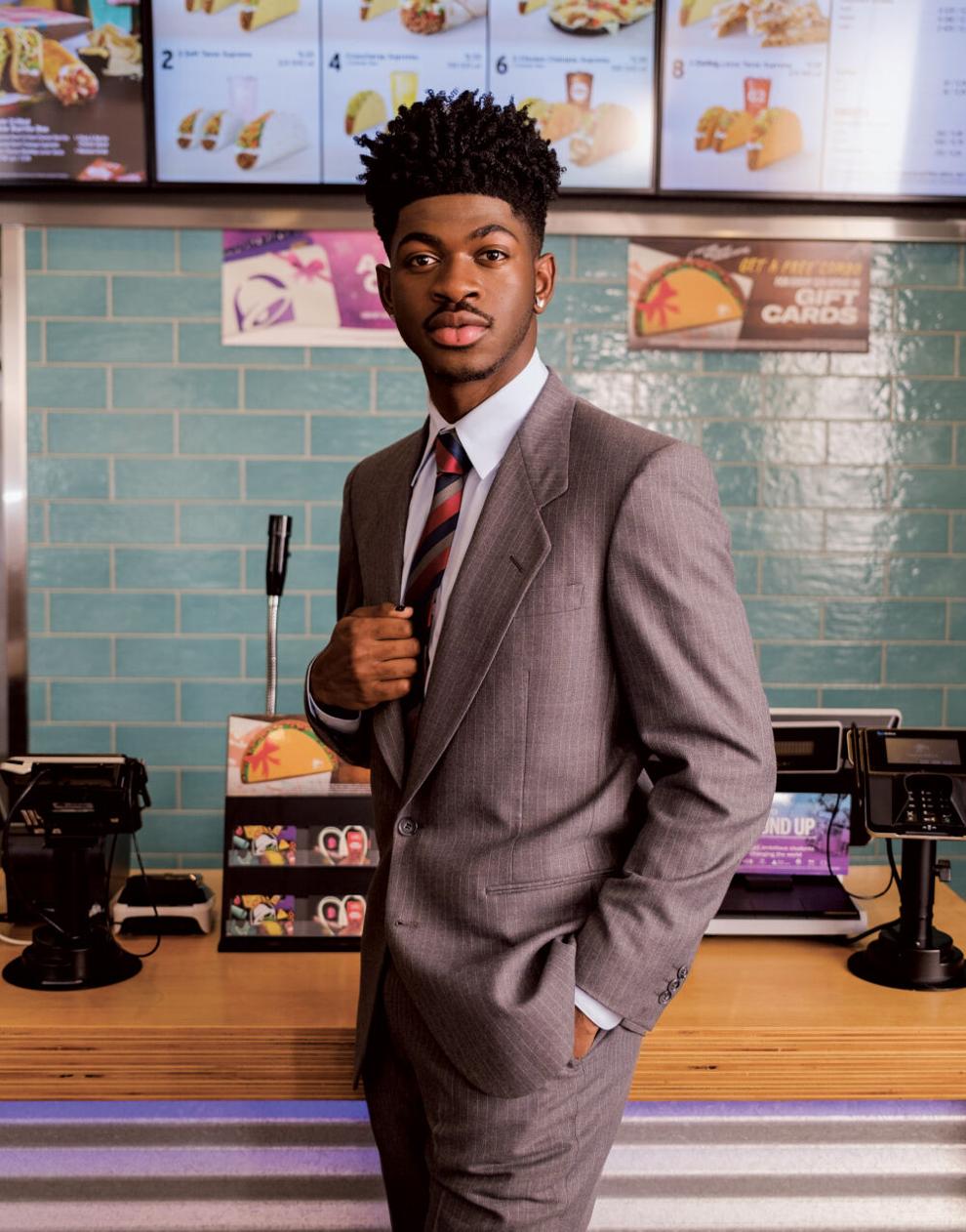 Taco Bell's chief of impact: Lil Nas X
"There's only one reason to wave the perfect dream farewell," says American rapper Montero Hill—known by his stage name Lil Nas X—in a 30-second Taco Bell commercial. "The sooner you wake, the sooner you'll get Toasted Breakfast Burritos." Lil Nas X's song "That's What I Want" closes out the ad, which grabbed more than 3.4 million views on YouTube since its debut on August 24.
Not many people know that Lil Nas X worked at a Taco Bell in Atlanta in 2017, just a year before he released the country rap hit "Old Town Road." His remix with Billy Ray Cyrus won Grammys for Best Pop Duo/Group Performance and Best Music Video in 2020. Lil Nas X came full circle when he collaborated with his former employer on the music video for his May single "Sun Goes Down," where he's shown as a team member behind the cashier counter at a Taco Bell mopping and looking forlorn.
Lil Nas X has mentioned his time at Taco Bell was "a pivotal moment in his youth," said Matt Prince, senior manager of public relations and brand experience at Taco Bell. "We recognized that Taco Bell and Lil Nas X had a lot in common, and wanted to partner with him in a way that would be authentic and more purposeful than traditional celebrity partnerships. It's definitely a crowded space, especially in our industry, with celebrity deals and meals, so to be able to show up in a truly authentic Taco Bell way."
While on location at a real Taco Bell filming the music video, Lil Nas X "showed off his skills by making his own freeze concoction mixed with different flavors, something he used to do as a team member," Prince said, adding that Lil Nas X is "super nice, very genuine and fun-loving and very tall."
But Lil Nas X also isn't afraid to be real. In "Sun Goes Down," he sings emotional lyrics recounting painful moments in his life such as being bullied and praying for God to take his gay thoughts away. Lil Nas X's other music videos have caused controversy, such as when he gives the devil a lap dance in "Montero (Call Me By Your Name)."
When asked what the conversations at Taco Bell and parent Yum Brands looked like when discussing how to handle negative press and customers who don't like Lil Nas X, Prince replied: "We stand by Lil Nas X's approach to igniting change in unconventional ways. Day in and day out, Lil Nas X is disrupting conversations and is not afraid to stay true to who he is, even if that means he may turn some heads. This is a quality that we look for and admire in a Taco Bell ambassador."
After naming Lil Nas X as the brand's chief impact officer in August, he made a cameo in the breakfast campaign as Taco Bell brought back breakfast offerings. Most recently, he's helped launch the Live Más Scholarship which gives away $7 million to passionate students pursuing a higher education. He'll help select winners in the spring, "and some lucky students might even be surprised with an award from Lil Nas X himself," Prince revealed.
"When appointing Lil Nas X as chief impact officer, we knew we didn't want the relationship to be another stunty celebrity partnership that's focus is products and promotions," Prince added. "This wasn't just a title for Lil Nas X; he authentically cares about the brand, its employees and its purpose, and we want to harness that in our marketing efforts."
---
How to pursue a celebrity partnership
Look for an authentic connection between your brand and the celebrity. Tim Tebow and Clean Juice's founders bonded over their shared Christian beliefs and Tebow's philanthropy. Justin Bieber was tweeting about Tim Hortons a decade before their partnership was struck. Both examples show the "why" of the partnership should be answered before the "who."
Expect to pay up. It's difficult to find information about the cost of celebrity partnerships. Franchisors are supposed to disclose such information in Item 18 of their franchise disclosure document, but none of those covered in this article did so, at least so far. (Perhaps they will turn up in their 2022 FDDs.) One hint: Papa John's endorsement agreement with Shaquille O'Neal, announced in 2019, cost $4.125 million and granted him 87,136 restricted stock units, its 2020 FDD said.
Do your research, but be stealthy. Popeyes conducted two separate research studies when considering a partnership with Megan Thee Stallion, neither of which asked directly about such a deal but instead asked for comments on "Popeyes" and "Megan Thee Stallion" separately, and "Popeyes" and an unspecified "celebrity partnership." They also brought the idea to their franchisee marketing counsel, a very tight-knit group sworn to secrecy, but kept it from the larger system to guard against a leak.
You can't make a splash without getting wet. In other words, playing in the celebrity game is unpredictable, and after doing their due diligence, brands ultimately have to be willing to take a risk. Along with the hoped-for positive vibes, your brand will receive snarky tweets and some franchisees will hate your deal. (But they will hate it less if huge sales gains are the result.) Can you take it? If not, don't go there.
---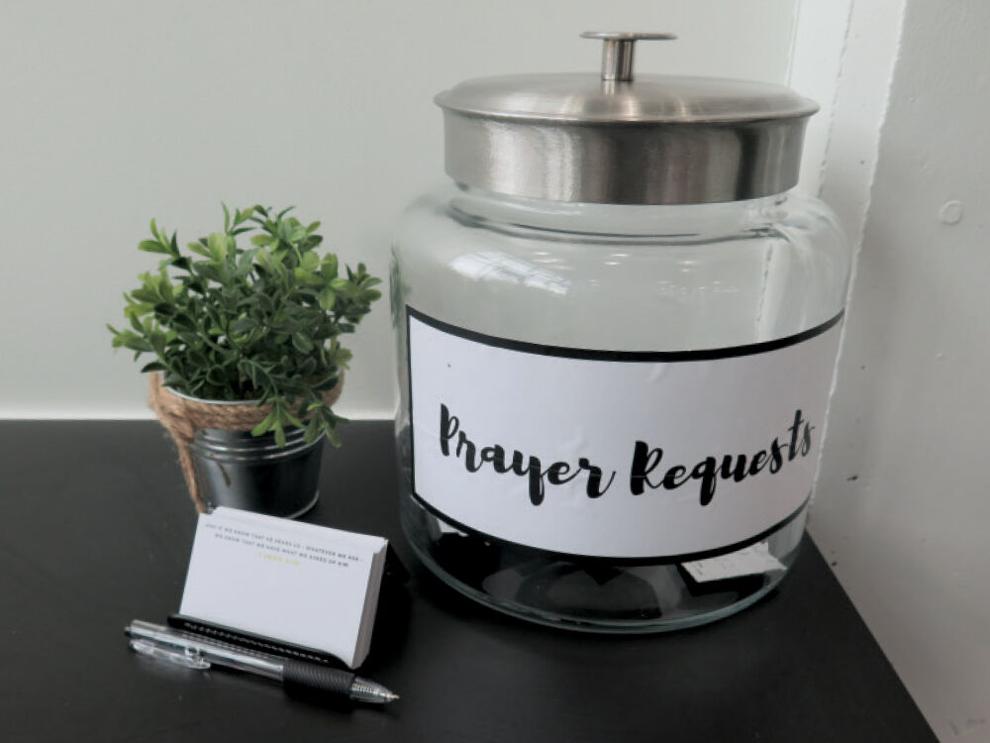 Clean Juice operator amplifies brand's message
Sherri Fink didn't consider any other franchises before opening a Clean Juice in Edina, Minnesota. It was "totally a God thing" when she met with founders Kat and Landon Eckles, Fink said, because they took a chance on her when she had no prior franchise or foodservice experience. She worked as a flight attendant for 36 years before taking a COVID-19-inspired retirement package.
When Fink started as a flight attendant, women "had to maintain a certain weight," she said, so she quit eating red meat and drinking soda and her eating habits evolved from that point. She was drawn to Clean Juice's focus on nutritious eats, from smoothies with immune-boosting shots like elderberry and wheatgrass to avocado toast.
Plus, Fink was attracted to the Christian roots of the brand. Slogans such as "I run on Jesus and juice" appear on T-shirts at Fink's store, while a prayer request jar perches at the entrance where customers can write on a note card stamped with 1 John 5:15. The brand's 10 core values posted on the wall all list a Bible verse, from "invite feedback and rely on open and honest communication" (Proverbs 15:31) to "we are grinders" (Colossians 3:23-24).
When asked how she thinks a Christian brand will perform up North and outside the company's roots in the Bible belt, Fink said customer response to the messaging "has been mostly favorable," and regarding her prayer request jar, she's received "a lot of compliments" such as "thank you for being so bold, we really need you in our community."
But a few local people took to Twitter to air their concerns, asking, "I wonder who prays the prayer requests? Is that part of the shift duties? Imagine sending a bunch of Bart Simpsons to stuff the prayer request jar." One person replied: "The blood of Christ was actually a mango green juice," while another just said, "Wow. Hard no."
"There have been a few maybe not-so-positive comments," Fink said, "but we overcome that" by saying "we're about love, working together and giving back to the community. It's not about pushing our values on them, just loving."
The store's soft opening was September 27, 2021, and the grand opening in October. "Each morning, God puts verses or songs in my head," Fink said as tears began to well up in her eyes. The morning of Clean Juice's opening, the song "I Surrender All" came on. "It's all for God, not for me," she said.
Within her first week, Fink's store was ranked No. 15 out of 122 Clean Juice stores in sales, which she said can be attributed to the buzz she got going around town by utilizing social media influencers. For example, Wendi Russo, a local TV host who has more than 11,700 Instagram followers, frequently visits Fink's Clean Juice and posts about it. And the company's partnership with Tim Tebow doesn't hurt. "It's awesome, he's a good brand ambassador," she said.
---
Prepare for 'crazy' says MrBeast Burger chief
When Planet Hollywood International founder Robert Earl and his son Robbie launched MrBeast Burger via Virtual Dining Concepts in 2020, they were not ready for the demand.
"We were ill-prepared," Earl admitted to the audience at 2021's Food On Demand Conference. "My son had signed the deal and I was like, who is MrBeast? He said, 'don't worry, it's going to be crazy.'"
MrBeast, whose real name is Jimmy Donaldson, is an American YouTuber known for filming pricey stunts and challenges. For example, would you sit in snakes for $10,000? Donaldson's 14-minute video of that game evoked "Fear Factor" flashbacks and garnered more than 108 million views since its April 10, 2021, posting.
At the beginning of MrBeast Burger, which now has more than 1,000 operating units, a customer posted a photo of "a highly unsatisfactory experience, and it took us four days to reach the person," Earl recalled. "When we finally did and say, we want to make amends with you, they said, 'oh, nothing was wrong.' We said, what the F, you posted these terrible photos." The reviewer responded that they got 25,000 new followers by being contentious on social media about MrBeast Burger.
"We live in a different world now," Earl noted. VDC features mainly celebrity-backed concepts under its umbrella, such as Steve Harvey's Family Food and Mariah's Cookies (from Mariah Carey). Having a celebrity endorsement helps ignite the brand, but doesn't necessarily give it staying power if the quality, variety and pricing aren't there, Earl said.
When asked why he's focused on celebrity-branded virtual restaurants—which could easily go south if said celebs got bad press, especially in the wake of the #MeToo movement—Earl responded: "I think there's actually more reason now than 30 years ago," when he founded Planet Hollywood, "because social media didn't exist then, which gives them the ability to talk to their followers" directly.
Though Earl said there will "obviously be brands that do not resonate" in the broader landscape, he estimates virtual restaurants have the capacity to grow 10 times bigger in North America.
"Generally, if you really sort of strip out the talent and look at the brands that ourselves and our main competitors are doing, they're safe, mainstream cuisines and food genres that everyone is eating anyway," he continued. "We're in the same space customers are, we're just affording people more and more opportunity."
---
Subway's campaign draws fans and critics alike
When Subway rolled out its "Eat Fresh Refresh" campaign last summer, it went overboard with a dizzying array of superstars: Football great Tom Brady, basketball legend Stephen Curry, tennis star Serena Williams and pink- or purple-haired soccer champion Megan Rapinoe, among others. It was Rapinoe who drew franchisee ire, proving that any celebrity campaign comes with risks.
Subway franchisees pay 4.5 percent of revenue into their advertising and marketing funds, and some operators told Newsweek they weren't pleased with Rapinoe, who kneeled during the national anthem during the 2021 Olympics. "Boycott Subway until Subway fires the anti-American" Megan Rapinoe, "the creep who kneels for our beloved National Anthem," read a note at a Wisconsin store.
"Spending our money to make a political statement is completely and totally out of bounds," wrote another franchisee on the NAASF blog. Twitter was also unkind. "Yowza. So Subway, trying to climb out of a MASSIVE hole, has hired new spokespeople for its re-launch campaign. The money they're spending is as massive as the hole I just mentioned."
Last July, the North American Association of Subway Franchisees met to discuss the ad and "communicated" with Subway leadership about "the concerns voiced by NAASF membership," according to the NAASF blog. Subway did not respond to requests for comment, and current NAASF leaders declined an interview request.
Correction: The above paragraph was updated with the source of the quoted material. It was the NAASF blog, not the executive director.
Keith Miller, a Subway franchisee in California, said he's "not necessarily against" the celebrity ad campaign. "The needle's been moving a little bit positively in Subway. I think it's got a ways to go," he said. "Everybody's needle has moved over the summer, and none of us know what it means yet, that's the bottom line. There was pent-up demand, there was a lot of money that came into the economy."
He says sales results are hard to sort out across the entire restaurant industry. "I don't think a lot of us in the industry know what it means right now. It's just a roller coaster. The good part is, Subway seems to be focusing more on the food, which is good. I've heard people mention it more. I guess it's been more known," he said about the ad campaign.
Subway hasn't said what it's spending on the campaign, except to call it "one of the largest media investments in the brand's history." In 2019, Doctor's Associates, the owner of Subway, spent $459 million on advertising, roughly $9 million less in promotional activities than in the prior year. The company had been incrementally decreasing its ad spend on U.S. media since 2013, from a high of $573.1 million that year, according to Statista Research Department.
Subway closed nearly 1,800 domestic locations since the beginning of 2020, with its number of U.S. restaurants decreasing from 23,800 in 2019 to slightly more than 22,201 in 2020, according to the Franchise Times Top 400. During that same period, total system sales fell from $16.1 billion to $13.7 billion.