The 50 States Project is a series of candid conversations with interior designers across the country about how they've built their businesses. This week, Sioux Falls, South Dakota–based designer Chelsea Veurink tells us about the Reel that gave her a global following, why her brand's voice is a pitch to busy parents and how she's found success working solo.
Did you always know you wanted to be a designer? What was your path into this profession?

I didn't really see a whole lot of design firms growing up in South Dakota—it was never something that we were seeking out, I guess. But my mom is really good at home-design-type things, and like any other teenager, I painted and rearranged my room a lot. My parents were both teachers, so when I graduated high school, I thought, "Well, maybe I'll just be a teacher, too, since that's what I know." But when I was telling my mom that I had no idea what I should go to school for, she told me that the college that she and my dad had gone to had an interior design program. She was like, "I think you should try this." And so I did.
Where did you go to school? And did the program surprise you?

I went to South Dakota State University. The program was very commercially orientated—out of my four years there, we did maybe one residential project. And I mean, the first two years are very much weeding out to find who's really going to stick around, and then your junior and senior years are more of the big project-based learning. I figured out that I wanted to do residential right away. For me, that means that really experiencing something [on a job site] is definitely how I've learned the majority of what I do, because I don't do a ton of commercial projects.
I graduated in 2011, so it was not a great time for finding a job. I did an internship at a cabinet company that's no longer around, but I did not love the environment. After that, I went to work at a tile and flooring company, and I was there for two and a half to three years. I learned so much about tile, which is a material everybody needs in their home. That really gave me a lot of knowledge on those kinds of materials, which has helped.
What was the role at that company?

I was mainly an on-the-floor salesperson. Everybody would come in asking for a backsplash, or they were remodeling their shower or their bathroom, so I would walk them through the showroom. Hopefully, they would come in with a cabinet or something as a starting point—and if not, we just started where they were and tried to figure out what the floor tile would be. In that way, there was some designing in that role—giving them the material, and giving them the options around what they could do with tile, which is endless in my mind, but a lot of people don't see that.
At the time, they were not working with independent designers—they were only working with big flooring showrooms as a distributor, so I worked with a lot of contractors in the showroom. But I just wanted more design. I was doing a lot of kitchen backsplashes, which is fine and understandable, but it felt very safe. I was selling the exact same style over and over again, and I was bored. I was just not being challenged as a designer. So I left and started working at a furniture store in downtown Sioux Falls—I was a second designer there, working with their primary designer on residential new builds and remodels. I did that for about a year and a half, and they ended up closing, so I went back to the flooring world at a new company that was just opening in Sioux Falls. I didn't really want to, but I needed something to do. And at the same time, I started designing part-time on my own.
What did that look like day to day?

I had my own thing part-time, and I worked at this flooring store part-time. I had two kids already, and then I was expecting again—twins, this time, which was kind of a surprise for us. I didn't have any expectations about how we were going to raise twin babies, so I knew I was going to want to stop working for a little while. I stayed home with the twins for a year. After they went to day care when they were 1 year old, I started full-time on my own independent business in 2019.
What made you feel like it was the right time to take the leap?

When I was doing design part-time, I had some clients, but I was not able to really meet with them, and I felt like I wasn't saving them time and money the way I do now because I was also part-time at this other place. I just felt I wasn't 100 percent focused on them, and that didn't feel fair to the clients who were paying me to help them with their home. I knew that's when I either needed to go full-time as a designer, or I needed to stop being part-time, because it just wasn't working.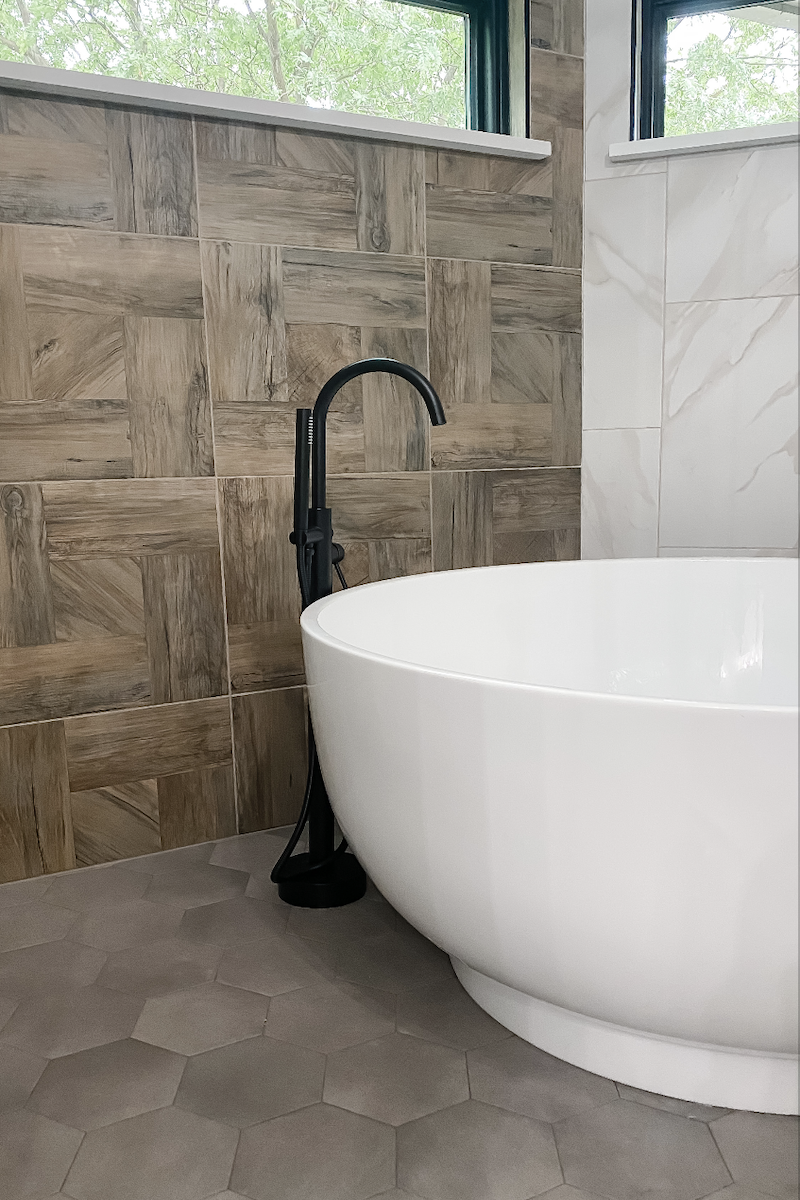 An accent wall in a tiled bathroom allows a soaking tub to shineCourtesy of Chelsea Veurink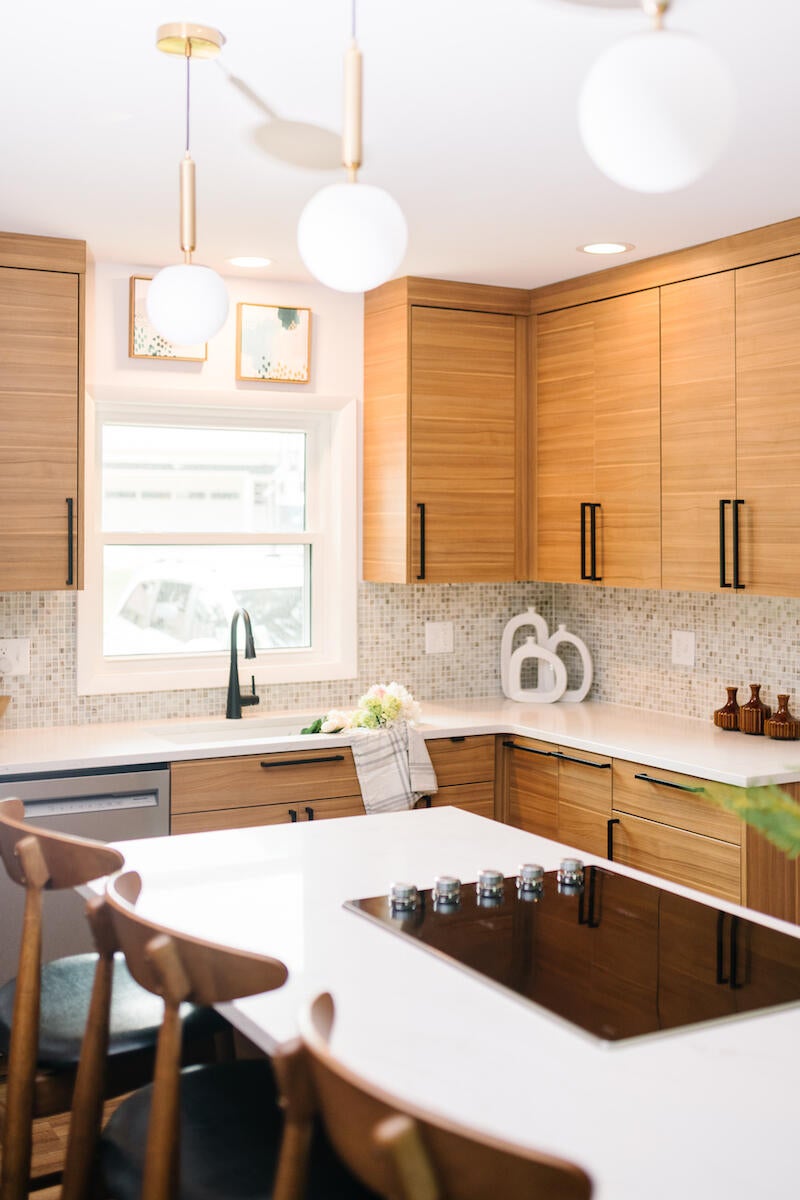 Clean lines and muted tones anchor a kitchen renovationCourtesy of Chelsea Veurink
Left: An accent wall in a tiled bathroom allows a soaking tub to shine Courtesy of Chelsea Veurink | Right: Clean lines and muted tones anchor a kitchen renovation Courtesy of Chelsea Veurink
I wanted to ask you about your marketing, because your website has such a clear voice. How did that evolve?

My husband and I built our house four and a half years ago, which was my first time building and designing totally on my own. A lot of people who are building are like, "Oh, I'm so stressed." And I'm like, "Really? It's supposed to be fun—why are you so overwhelmed?" So for my clients, I want it to be fun. If you're building a house or doing a remodel, it's probably going to be once or twice in your lifetime, and I think it should be an enjoyable experience. Years down the road, I don't want my clients to feel stressed or overwhelmed when they think about building their house, so that's why I home in on that kind of thing—because I want it to be a good experience.
What does that take from you and from your business?

It takes getting to know them a little bit and how their family functions and what they like to do—if they like to entertain, if they're home a lot. It's really how they function in their home and how they want their home to feel when somebody walks in the door or when they walk in the door. What do they want to feel like when they are home?
What do people tell you they want their home to feel like?

Usually, relaxing and a safe place. It's mainly, like, a place that they want to be. They can stay here, they feel safe here. A place where they feel like themselves.
How much of what you're working on now is that ground-up kind of building construction, and then how much of it is more on the decorating side?

The housing market has just been crazy, and a lot of people either can't find a home or they don't want to even go through that process so they start to remodel the home they're in. I mainly do remodels and new builds—I don't do a ton of just decorating and furniture. Usually, they have dark trim and dark cabinetry, and they just want it to look fresh. They want it to feel light and open.
Wood slats form a geometric backdrop in a modern primary bedroom Courtesy of Chelsea Veurink
You were talking about losing steam selling that same tile backsplash over and over again. How do you help your clients get out of that safe zone?

It can be tough. I understand that when you are building or doing a remodel, you don't want to feel like you might get sick of something in three to five years and want to redo it. But usually, I can get them to step out of their comfort zone if I have a "why" behind it. Obviously, I'm not going to just tell somebody to do something just because it's cool. It's things like, "Bigger tile makes your space look bigger." I just have a real reason why I think this is the right material or the right selection for you and your family. If I have that, that explanation helps along the way.
How have you approached billing for your work?

That's been a challenge for me because you just never know exactly how the client is going to use your time sometimes. So I've been hourly before, and I've tried to do a package price—and sometimes that ends up being a good way to go. Sometimes. I've had it both ways: I've had an hourly client who needed to be hourly because they needed just a little bit more of my time, and then I've had hourly clients who say yes to everything I propose, and I probably could have done a package price for them. These days, I'm hourly most of the time.
Do you then also bill a percentage on the materials and the furnishings, as well?

I have not started doing that consistently, no.
Can we talk about the idea of talking about money?

I just have to be straightforward, whether it's my hourly price or a package—I send over a proposal, and here's the price. I usually require down payment. And then in my experience, the homeowners usually ask, "Well, don't you get a discount?" They're very respectful and understanding, but it is definitely not my favorite part.
You have different package options on your site. Can you walk me through how those three work, and what percentage of your business each one makes up?

I have a package called Design Launch, which is for somebody who maybe just wants advice or a second opinion. That's somebody who knows what they like, but there's honestly so much out there that it's just too much, so they never pull the trigger on anything. If they're in town, I would walk through their space for 30 or 40 minutes and take inventory of what they have and how the space functions for them, and what they're wanting the end result to be. Then I will give them a mood board, some furniture if that's part of what they're looking for and a layout. But I don't actually find them specific pieces that would fit the home, if that makes sense. It's just the very beginning design phase. I give them an idea, and they have to work on it themselves, or they can hire me. But if they wanted to continue on their own and try to find a couch that looks like this picture I found, then they would have that to finish their projects themselves.
Is that a popular option? What made you introduce it?

No, actually, that's a newer service, and I've only done a couple of those. I don't talk about it a ton on my social media, either. I've just found recently that a lot of people want advice and want help, but they also either don't have the finances to fully take on the project with me or they actually like to do the shopping. hey just need a little bit of a push.
I also have e-design. I've done more of that in the past, but I don't talk about that very much on my socials either. I'd rather do full-service design any day, so that's the majority of my content and what I'm usually doing. The full-service work is 90 percent of my business.
Do the other two help push people toward full service?

I think so, just because the clients see the value that the other two packages don't have, and it makes them want a little bit more.
You launched your firm at the end of 2019, so just in time for COVID to hit the world. How did that shape the trajectory of your business?

I had a couple of projects right away. And then COVID hit, so nothing was happening for three to four months. And honestly, I had two kids in school, so I suddenly had to do school from my home. So it wasn't the worst that business slowed down. But by that fall, in 2020, I was so incredibly busy. So many people were just at home so much more, and they realized that their homes were not functional. I was very busy for the next year, basically.
Was there a commonality in the things people were looking for? And is it different than what they want now? Or is it all sort of the same?

I think it's all sort of the same. I mean, I think it really comes down to being functional for their family while also looking beautiful—but I think function is the main priority.
What are some of those elements you're adding to homes to help them be more suited to a daily life with dogs, kids and all of that?

I've done a lot of bathrooms, honestly. And so I think the routine and the trafficways are a big thing. Also, in kitchens: The paths and the tasks you use in those spaces are what people are really focusing on to get right.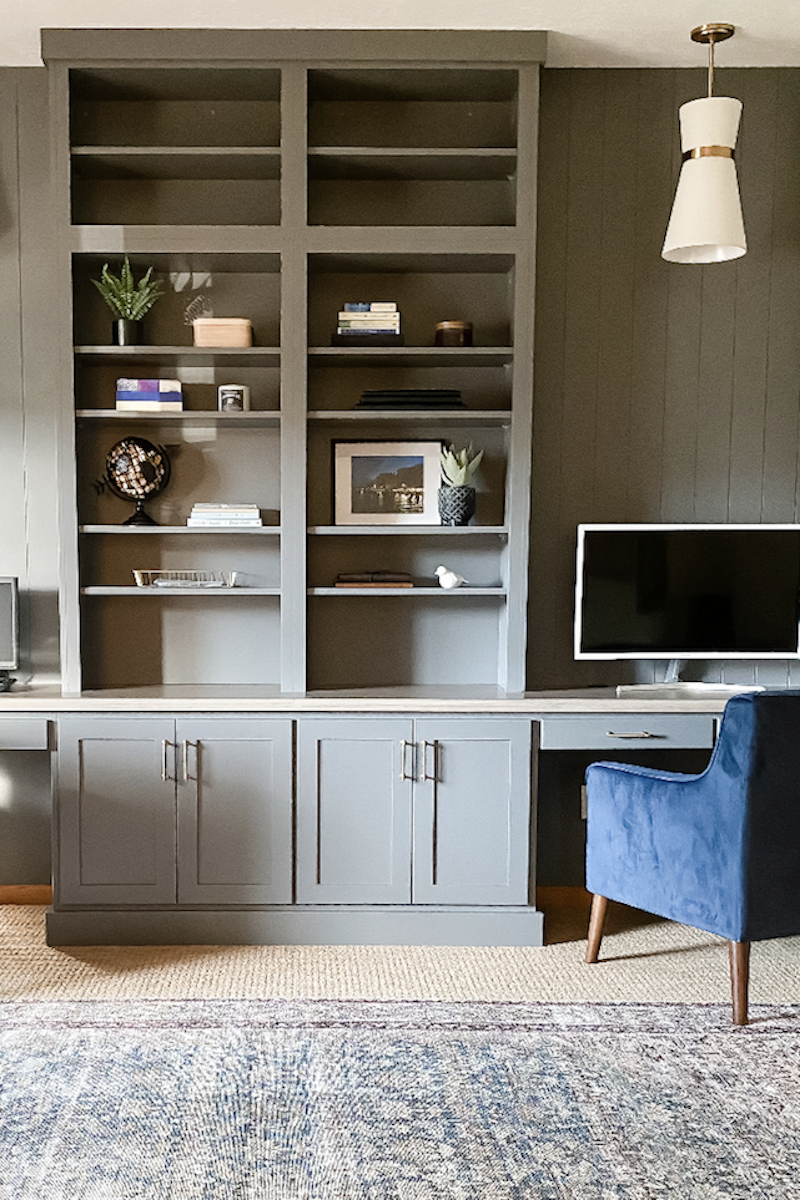 Soft gray millwork provides a space to workCourtesy of Chelsea Veurink
Blue cabinetry pops against a brick backdropCourtesy of Chelsea Veurink
Left: Soft gray millwork provides a space to work Courtesy of Chelsea Veurink | Right: Blue cabinetry pops against a brick backdrop Courtesy of Chelsea Veurink
I wanted to ask you about social media, too, because you have a big following there. Has that been a key focus of yours, and how did you grow that community?

So it was not a large following until this past June. I enjoy doing some DIY in my own house, so I painted my dining room table and then used marble spray paint on it, and I made a Reel out of that, which went just crazy viral in June. That's where all the followers came from. But in general, while I enjoy Instagram, it was mainly for fun. My clients aren't necessarily coming from Instagram; they usually come from my website. My following on Instagram is more of a DIY community looking for inspiration.
So it really all was from one post? What was that moment like?

It was just kind of crazy, honestly. I had about 4,000 followers in June, and then one morning I woke up and I had 8,000. And then it just kept going and going—people were sharing it, or putting it on to their channel. It was not something I was expecting. It wasn't even a Reel that I was super proud of—I probably would have done a couple of things differently if I'd known this was going to happen. I didn't even type out the steps I followed for the table!
I'm watching it right now.

It is very short, and there's not a ton of "this is how you do it" information. I still don't really understand why it took off.
Did it push you to put more strategy behind future posts?

I know my Instagram followers love DIY projects, so when I had a couple of projects in my home that I wanted to do anyway—like, I wasn't doing it just for Instagram—I was maybe more intentional about sharing that process. I don't have a lot of DIY stuff going on, but if I think of something that my family could use, I will share it. I'm not going to go out and do a DIY project just for Instagram.
Is there any inkling for you that that could turn into clients down the road?

Yes, possibly. I have had some people reach out—I did a couple of e-design clients after this post, but it hasn't been my prime focus, because I know a lot of my followers are not even in the United States. They're all over the world.
How many projects are you typically working on at a time? What is a full plate for you right now?

I have eight or nine right now. I've had more before, and I've had less, but I feel like this is a good middle ground.
Where do you see opportunity when you look ahead? What does growth mean to you?

I don't really see myself having a team. I feel like things are working as they are right now. With the projects coming in, I feel like I don't really have to say no, if I'm being honest. It probably comes from my website and my social media—the people who find me know what I've done in the past. So all the projects coming my way are the style and the scope that I really enjoy.
What does success look like to you?

I think success is a more balanced life. When I first started, I would work a lot at home when my kids went to bed. But I've had to learn to not do that, which is hard. And sometimes I still work at night, but it's just kind of teaching your brain.
For instance, in my calendar, Mondays are mainly my office days. I don't take in-person meetings very often on Mondays—that's the time to work at home on my computer, on proposals, invoices and all of that behind-the-scenes-type stuff. And then I schedule a lot [of meetings] for the rest of the week. That [distinction] has helped me make sure I get it all done. It's really about being intentional with how you spend your time.
My site says, "From one busy lady to another." I have four kids, so I know what it's like to be busy—my husband and I can hardly speak to each other at times, but I know that all families are like that at home if they have multiple children. I just want to be able to take something off of your plate—off of your to-do list—to make your life easier. I like to put myself in other people's shoes, if I'm being honest. It's really hard to have an 8-to-5 desk job and run all these errands for your home. I have known people who have to spend all weekend doing their house stuff, and it gets to be too much because they have kids and full-time jobs. And if you don't have the flexibility to also design your home or remodel, it's very overwhelming and crazy. So if I can help take that stress off of your family and off of your daily life, that's what I want to do.
To learn more about Chelsea Veurink, visit her website or find her on Instagram.