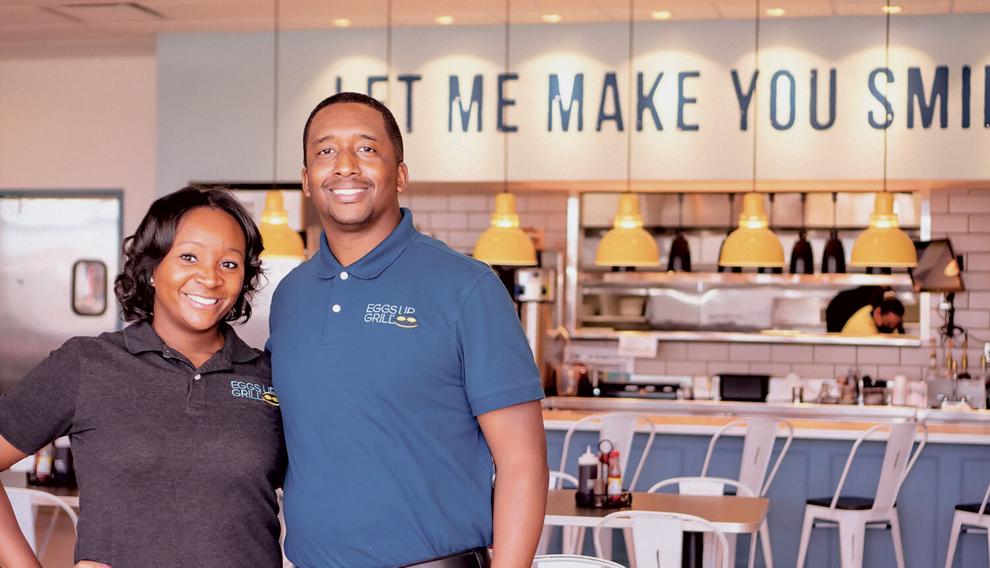 Winner: Eggs Up Grill
Finalists: Huckleberry's and The Flying Biscuit Café
Eggs Up Grill units are "able to generate solid profit numbers," said Andy Wright, and he should know. Installed as chief financial officer in March 2018 after private equity firm WJ Partners acquired the breakfast-focused franchise, Wright got a closer look than most at the performance of the brand.
He liked what he saw enough to make the switch from franchisor to franchisee, signing a five-unit development agreement in December 2019 and leaving his corporate post a few months later. Wright and his wife, Penny, opened their first Eggs Up Grill in the northwest Georgia city of Canton in December 2020 and added their second, in Rome, in March 2021.
Wright, who before Eggs Up Grill was CFO of fitness franchise Pure Barre when WJ Partners was an investor, said the simple labor model and food menu help franchisees "really keep our prime costs in check." The "culture of the company and its DNA" as a neighborhood gathering place, meanwhile, are sales drivers, he said.
Eggs Up Grill, based in Spartanburg, South Carolina, and with 54 locations, tops the field of breakfast franchises in the Early Risers category, as selected by the FT editorial team. The company provided enough solid information in Item 19 of its franchise disclosure document so prospective franchisees can understand their profit potential, our team found. Noting the impacts of the COVID-19 pandemic, including "related stay-at-home and other orders issued by some state and local governments that restricted the operation of restaurants," Eggs Up Grill reported average gross sales of $681,462 in 2020, down from $905,585 in 2019. The average cost of goods sold was 24.2 percent in 2020, with wages running 26.5 percent of gross sales. The investment range is $491,207 to $678,011.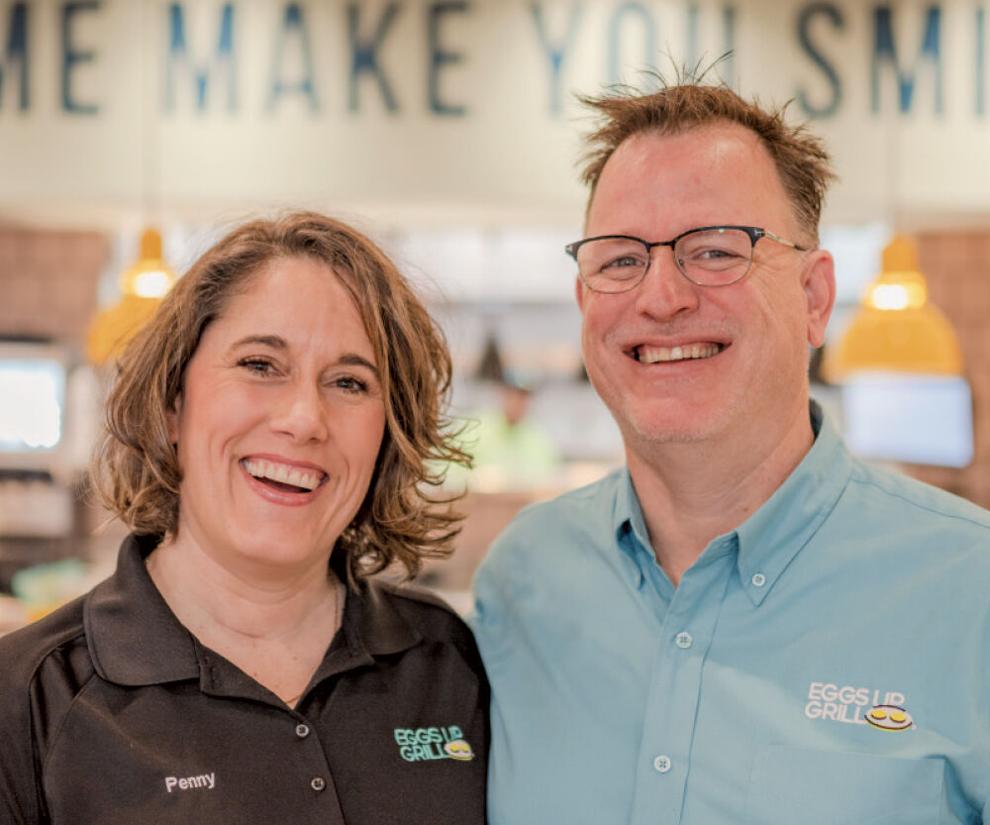 The company said it finished 2021 with an AUV exceeding $1 million and same-store sales up 17 percent over 2019.
CEO Ricky Richardson, who WJ Partners hired in July 2018, spent 20 years at TGI Fridays and "really took the bull by the horns," said Wright, as the brand rolled out a new point-of-sale system, updated the look and feel of restaurants, created a new prototype with pickup window and revised the menu.
At his restaurants, Wright said they're focused on driving revenue by treating customers "like gold."
"We know the profit is going to come," he said. "If we can give them fast, friendly service and keep their coffee full and engage with them, that goes a long way." He added revenue at both restaurants is ahead of projections, and while "the jury is still out" on the expense side, he's preparing to sign a third lease and is "pressing the gas and looking for the fourth location as soon as it's practical."
Wright handles finance and development duties as one half of the husband-and-wife-duo, while Penny focuses on daily operations and training and calls herself "the parent of our restaurants"—a fitting comparison for a concept that touts its family atmosphere.
"There's no substitute for us being there, touching tables and speaking with the guest," said Penny, who spent 11 years as a firefighter and paramedic in Fort Lauderdale, Florida, before working as a preschool teacher and later the community engagement manager for a nonprofit. As a teen she worked in her mom's restaurant and that experience, combined with her other roles, gave her the skills to "get along with a lot of different people" and develop her staff, something she said is crucial for a successful restaurant.
Priscilla Conyers knows the importance of having a strong team in place and said even then, franchisees should be prepared to put in plenty of hard work. "When we opened, we were there every single day for seven, eight months straight, weekends included," said Conyers, who with her husband, John, opened their Eggs Up Grill in November 2020 in the Tampa suburb of Riverview, Florida.
"My team is well aware we're in the trenches with them," she continued. "They see we're putting in the work." And so far, it's paying off.
Her restaurant did $1.2 million in net sales its first year and the Conyerses earned rookie of the year honors from the franchisor. "It was almost difficult to wrap our minds around the sales we had," she said.
Involved in numerous civic organizations and active in the community, Conyers also credited their success to leveraging connections "and our career jobs" to spread the word about the first Eggs Up Grill in the Tampa area. She's a clinical pharmacist at an area hospital and John is a firefighter.
"We're all about neighbors serving neighbors," she said, part of what attracted her to the brand. That culture was visible when they visited a location in Albany, Georgia, during their due diligence phase.
"It was a feeling we never got before. It was a feeling of joy, simply put," Conyers said. She noted she later "grilled" numerous franchisees to learn everything she could about the brand. "One of my gazillion questions was if you had the opportunity to do it again, would you, and everyone said yes. Hands down, across the board, yes."
---

---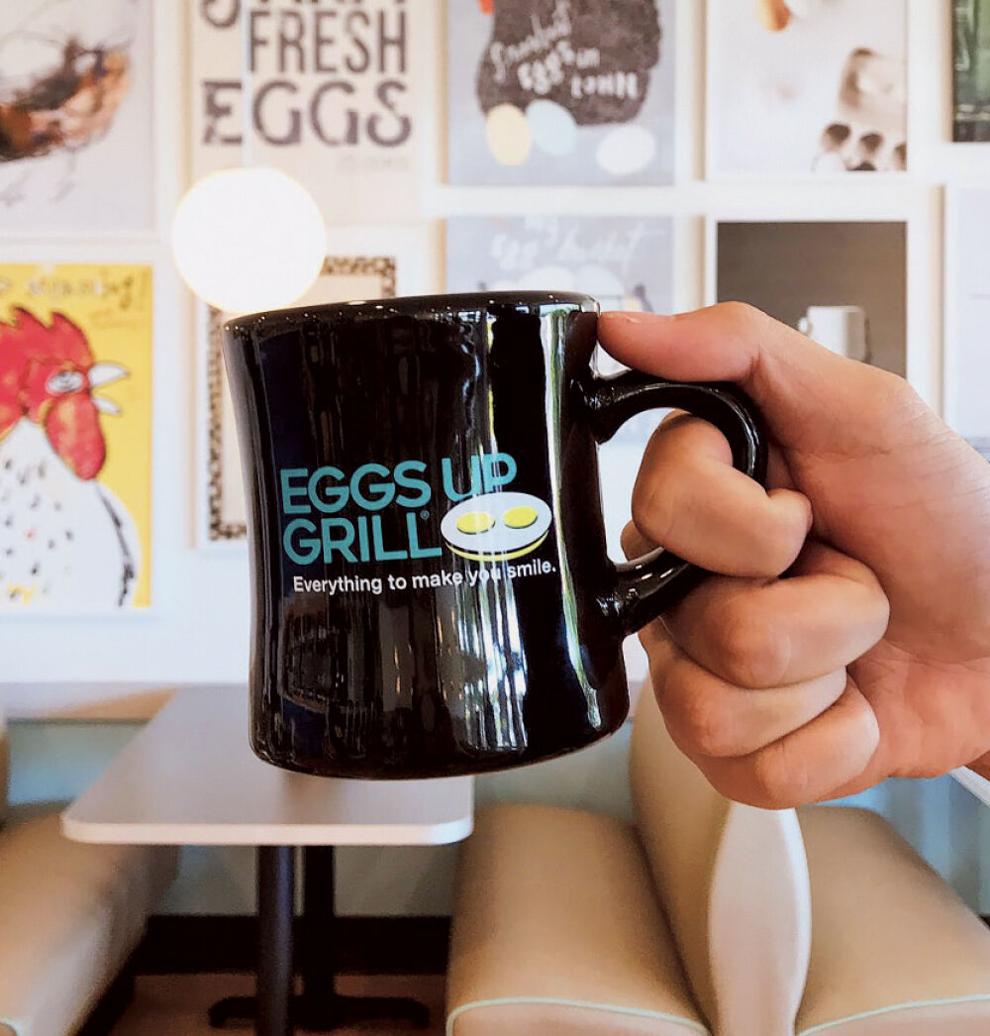 Eggs Up Grill
Positives
Reenergized after a private equity investment, restaurants got a refresh plus new off-premises revenue channels franchisees say are "extremely important to the business model."
In the popular breakfast/brunch segment, operating hours of 6 a.m.-2 p.m. are attractive to franchisees and workers alike.
Use Caution
Accelerating growth and entering new markets, the franchisor needs to stay focused on bringing in strong operators while maintaining brand standards.
WJ Partners acquired neighborhood breakfast concept Eggs Up Grill in 2018 from founder Chris Skodras and business partner Skip Corn. It hired former TGI Fridays exec Ricky Richardson as CEO to help tackle growth and has since opened more than 20 restaurants to bring the unit count to 54.
---
Franchise Times
Zor Awards
Categories

---

For the Kids
Top Kids Education/Activity Franchises
Finalists: i9 Sports, Soccer Shots, TheCoderSchool

---

Drink Up
Top Beverage Franchises
Finalists: Gong Cha, Robeks Fresh Juices & Smoothies, Smoothie King

---

On the Mend
Top Medical Franchises
Finalists: Fyzical Therapy & Balance Centers, The Joint Chiropractic, Vital Care Infusion

Full Speed Ahead
Top QSR Burger Franchises
Finalists: Freddy's Frozen Custard & Steakburgers, Sonic Drive-In, The Habit Burger Grill

---

Big Haul
Top Junk Removal Franchises
Finalists: 1-800-GOT-JUNK?, Junk King, The Junkluggers

---

Affordable Entry
Top Low-cost Franchises
Finalists: Blue Moon Estate Sales USA, DoodyCalls, Fastest Labs

---

On the Move
Top Mobile Franchises
Finalists: HouseMaster, Pirtek, Screenmobile

Early Risers
Top Breakfast Franchises
Finalists: Eggs Up Grill, Huckleberry's, The Flying Biscuit Café

---

Fixer Upper
Top Home Improvement Franchises
Finalists: Floor Coverings International, Kitchen Tune-Up, Handyman Connection

---

Upstart Adventure
Top Emerging Restaurant Franchises
Finalists: Dog Haus, Happy Joe's Pizza and Ice Cream, Kolache Factory